JOHAN'S BLOG – We're having a gangbang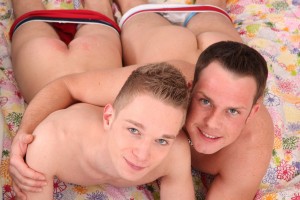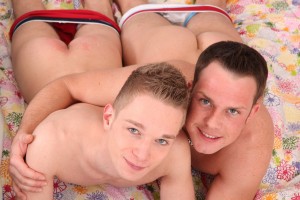 A gangbang surely has to be everyone's biggest dream. Every gay guy wants to be in the middle of one – be it as a top, as a bottom, or maybe even in both positions!
To be right in the middle of a bunch of horny, muscular guys who have just one thing in mind: hot, sweaty, totally intense sex! Be it in one of the classic locations such as a locker-room or the showers, or in a darkroom, a sex-shop cinema, in the back room of a raunchy club or indeed anywhere else. The fact of the matter is that it's always about the same thing: to fuck or be fucked! No discussions, no big deals – just pure, unadulterated sex!
Under normal circumstances, of course, very few of us would ever get into the situation of a gangbang. I'm actually a member of different gyms and play a variety of team sports, but even so, I've never had a private gangbang in either the locker rooms or the showers. Neither have I ever heard of any spontaneous gangbangs taking place in the clubs – gay or otherwise – in my town. In short, it's just a big dream.
Fortunately for me, however, I'm a porn actor and (as a result) get to enjoy my own little gangbangs on a regular basis. Of course, they're always in front of a camera and have to follow a strict script written by a horny and arguably slightly perverted writer/producer, which is a bit of a shame – I'd definitely prefer a private affair – but a gangbang on a movie-set is better than none!
I was involved in the shooting of a gangbang just recently – the sequel of STAXUS's hugely successful "German Bitch Gangbang". This time, the poor (or lucky, depending on how you regard it) German guy called Sebastian had to take no less than 25 guys in one session. Mind, the Germans are really weird when it comes to sex. Years ago their fetish was sniffing stinking sweaty socks and trainers, now it's all about gangbangs and abuse – the result, perhaps, of having Merkel as Chancellor! Whatever the reason, it was Sebastian who contacted us and asked us to make his dream come true – something we were more than willing to arrange.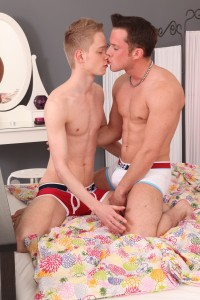 Mind, you can imagine how much preparation was involved in not only booking 25 good-looking guys but also planning the shooting of all the ensuing fucking. Suffice it to say that the only guy who was totally relaxed and fully enjoying the scene was Sebastian himself; whilst the tops and the three cameramen were all as stressed as hell!
This 25-man gangbang was special even for me. It was a wild, horny orgy, which almost got out of control as a result of us all being so hot and energetic! You'll see what I mean when you check out the STAXUS DVD "25 Cocks – 1 Blond Twink" at Homoactive.com. Maybe you'll also recognize that the bed we had for the gangbang on actually broke during filming. My recommendation: don't buy a bed at IKEA if you want to use it for a nice fucking session with more than 10 people!
For me, the horniest part of the whole thing were the preparations, when all of us models are standing together, wanking, chatting and giving each other blow-jobs to get our cocks hard. It's just a totally horny but utterly relaxed atmosphere. Indeed, it reminds me of the good old times in the locker rooms and showers after sports class at school.
Incidentally, I must tell you a funny story from a shoot that I had recently – one with my old friend, Mike Cage, who I knew from school in my home town of Liberec, Czech Republic. The storyline was that he got lost in some town, asks for the way in a bar and then gets abused and raped by the bar staff on the pool table – in short, a total classic! However, he ended up enjoying the abuse so much – even including the double-fisting that always puts a horny smile on his face – that we ended up putting 3 (!!!) billiard balls up his ass. What's more, he actually ended up asking for more! Our director almost got quite cross, but Mike was just having the time of his life. It's funny how people can change. At school, he was a shy, innocent lad, but now he's one of the most popular double-fisting twinks around! You can check out the transformation on the DVD "Extreme Twinks", set to be released this month on Homoactive.com.
 Hugs
Johan