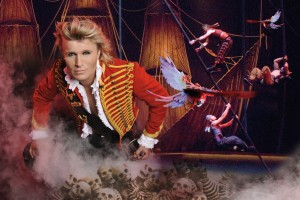 Prepare to be amazed and astounded. For the first time ever, international illusionist extraordinaire, Hans Klok, will bring his astonishing new show The Houdini Experience, to London's West End this month.
Described as 'chilling, thrilling and breathtakingly amazing', Hans Klok, his Divas of Magic, dancers and a troupe of world- class variety acts that will dazzle any audience… young or old.
Commenting on his epic new production, Klok, who is regarded as the world's fastest magician, said: "Let me take you on a journey into another world; a fantasy world, a world full of mystery, where the impossible becomes possible and where you experience one surprise after another."
Combining sensational illusions, daredevil stunts and extraordinary tricks, The Houdini Experience, pays homage to one of the world's greatest magicians and escapologists and comes to the capital some 100 years after Houdini himself made his London debut.
The Peacock Theatre
London
Now until 25th March