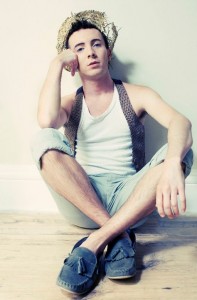 Northampton born Benjamin Johnson has been creating a stir UK wide over the past year. A passionate singer/songwriter Benjamin's music is inspired by the likes of The Kooks and Damian Rice. Having worked with unsigned urban acts such as BrightLight for his most recent single 'In The City' we sent Ryan Houston to find out more about the road to unsigned stardom for Benjamin and what he hopes this year will bring.
You recently appeared on Sky 1's reality show 'Show Boaters', how did that work out for you?
Well I got through to the finals 'Show Boaters' and it really sculpted me as a more versatile performer! I was given new challenges and met some fantastic characters within the industry. Getting to the final wasn't something that I expected to happen but once it did, it rather made me realise that the public had clearly seen my personality and my character and they got me there.
What first got you interested in music?
I think the first thing that really got me involved in the music industry was my family. They are all part of an art of music industry so I was influenced right from the start and I think my passion was ignited from day one. It has always been a second nature to me and something I believe I'd be lost without.
What has been the best thing you have done while being in the music industry?
I would have to say Show Boaters. It opened my eyes to another side of the industry – behind closed doors and in front of the camera. It also let me see and review myself as a person and performer from an outsider's point of view. It's always a bit of a shock when you see yourself in a way you never thought but it's something that has been very rewarding for me.
What about the future?
I would like to make a bigger impact on the music scene this year. Whilst I'm working to making that impact, I will be working hard to create more new music, experimenting with new genres and collaborating with new underground artists, which has been a lot of fun in the past! I hope to move further towards success and perhaps gain more respect (and pennies) for my music! There are also loads of gigs planned.
If music hadn't worked out the way you hoped where would you be now.
Music still hasn't worked out the way I want it to, and I believe I still have so much further to go, but if I didn't have a hope of making it within music then I would have continued studying fashion and working as a stylist. That was always something I enjoyed, and it's still something I am involved with, I'm always creating something that will wow audiences. I have the best of both worlds in that respect.
You can find out more on Benjamin and his upcoming gigs via his website.