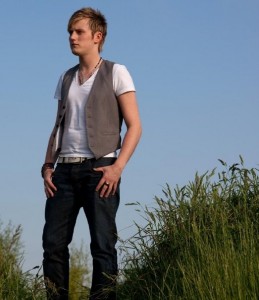 Sam Dickinson is a YouTube charting singer songwriter from Newcastle Upon Tyne. Formerly the lead singer of soul funk band 'The Fletchtones' he has played and headlined several pride festivals in the north of England such as Northern Pride and Manchester Pride, appeared at Newcastle's O2 Academy and played alongside acts such as Basshunter, Nicki French and Amanda Wilson of the Freemasons. We sent Ryan Houston to catch up with him.
How did you first get involved in the music industry?
I began in the industry doing shows in working men's clubs – not necessarily them booking me but me hiring the room and selling the tickets. I've never really done things easily, which I could have. I've done quite a few shows like that before looking at prides. My first experience doing that was Northern Pride in 2009 and it's gone on from there, trying to get my music heard. I spent 2 years in a band but that didn't work out. The songs were good but perhaps I needed to do something slightly more pop orientated and then incorporate all the soul elements that band had.
Who inspires your music?
Anastacia, Beverley Knight and Gabrielle, all for different reasons. Anastacia's vocals and stage presence, the themes of her songs are always about empowerment and strength of character. I try to put that into my songs. Beverley Knight because when you watch her on stage, you watch only her, she gets lost in the music and Gabrielle because she's the queen of heartbreak, long before Adele was, and we've all been there. We've all had the moment crying listening to some sad song.
Out of all the gigs you have done what has been your favourite?
Oh god so many! Northern Pride, the first year was amazing. The feeling of so many people liking what I was doing. There have been big and small gigs I've loved but at the moment my favourite gig was recently in Newcastle. I performed an acoustic set, I was performing as a solo act for the first time in two years and I was petrified. That audience re-inspired me and re-motivated me to do what I want to do. They made me feel that just because a certain person might have tried to put me down that they were wrong and people do want to hear what I've got to say. We closed on a song called 'Lift Your Head', which is on my Soundcloud page and is about cancer, it's about living life to the full. That has to be my favourite moment on a stage.
What's the best part of your job as a singer?
Singing is the obvious answer but speaking to people after shows, their highlights and favourite moments. They also keep me in check though, even to the point one told me to never go on stage again unless I've polished my shoes!
If things hadn't gone the way they did for you where would you be?
I wouldn't be pushing myself to do what I want to do! I've still got a long, long way to go but one day I'll get that good management company and one day I hope people will relate my songs to their lives because that's when music touches us.