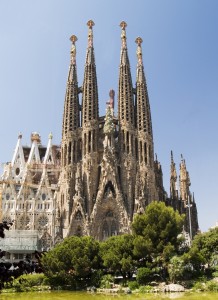 You know… that place near Sitges! Adrian Gillan visits the Catalan capital of camp and cool and finds Barcelona still one of the hottest, hippest gay places in Europe!
Though truly steeped in grand, opulent Spanish history, and fiercely protective of its distinctive Catalan culture and tongue, Barcelona really began to newly sing-and-hum ever since its 1992 Olympics chic-makeover – not least its queer quarter, behind the chaotic Old Town that borders the Med.
TO STAY
Located along the famed boardwalk, La Barceloneta, enjoy unparalleled views out over sea and city at W Barcelona (Plaça de la Rosa del Vents 1, Final Passeig de Joan de Borbó; T: +34 93 295 28 00; www.w-barcelona.com) – an avant-garde icon of stunning architecture designed by world-famed architect Ricardo Bofill, rising high like the sail of some massive ship above the waves. Experience the hotel's celebrated 24/7 service; unwind at its funky Bliss spa; indulge in signature restaurant Bravo; cool off at Wet; energize at Sweat; and ascend to the Eclipse rooftop night bar for 360-degree vistas. Sleep tight in one of the 473 guest rooms including 67 suites – all with ultimate sea views, plus comforts such as the signature W bed with 350-thread-count sheets, fully-wired technology, ab fab entertainment systems and take-me-home sinkside products!
TO EAT
Open Wednesday to Sunday for lunch and dinner, Arola restaurant at Hotel Arts Barcelona (Marina 19-21; T: +34 93 483 80 90; www.arola-arts.com) boasts two Michelin stars and showcases master chef Sergi Arola's most authentic cuisine, "recovering the essence of Catalan cooking" – via minimalist, highly-balanced, gastro-symphonies of taste, texture and ingredients, inspired by land and sea. Enjoy the Arola Terrace too, offering fine beachfront views and hot DJ spins.
TO SEE 'N DO
Check out all-things-Gaudi (the Modernista architect and designer supreme), notably his spectacular-yet-unfinished Sagrada Familia church, plus residences like La Pedrera apartments and Casa Batlló; the busker-, boutique- and eatery-brimming pedestrian thoroughfare that is La Rambla; the Picasso Museum, showcasing much of the great artist's earlier work; the Liceu opera house; and the Old Port, transformed post-1992 Olympics into the trendy Barceloneta district with its beaches and fish restaurants – and from where you can take a cable-car ride up to the Montjuïc hill for the main 1992 Olympic sites, the Foundation Miro and fab views back over city and harbour. Top Tip: see all, with ease, on a 'Barcelona Bus Turistic' (www.barcelonabusturistic.cat), including the Barcelona FC stadium and museum. And then there's the city's massive scene!
TO BOOZE, DANCE 'N CRUISE
In the Eixample district – a.k.a. 'Gayxample' – the queer bars cluster around the blocks. Huge, noisy and welcoming Punto (C/Muntaner 63) is one of the few venues to open doors as early as 6pm in a late Latin culture where you eat at 10pm, hit bars at midnight and rarely reach a club pre 3am. Take that "club kip" 5pm-9pm to last the course!
To sip away small hours with lover or friend, settle into the intimate and modish Dacksy (C/Consell de Cent 247) for the night. Other such "style bars", where Barcelona really comes into its own, include sexy Lust (C/Casanova 75) and preen-and-be-seen Bim Bam Bum (C/Casanova 48). Also check out earthy Atame (C/Consell de Cent 257) for Spanish music and drag; and très glam Café Dietrich (C/Consell de Cent 255) – all glitter ball and chandelier. Meet old chaps at New Chaps (Avinguda Diagonal 365).
Club-wise, Arena (C/Balmes 32) is the mainstay handbag and house joint. Metro (C/Sepúlveda 185) has an underground feel, with backroom and porn chamber – hot and sweaty in its sprawling labyrinth. The largest gay club in town, DBOY (Ronda Sant Pere 19-21), sports two main rooms, full of young'ns.
Beyond the bars and clubs, central Sauna Casanova (C/Casanova 57) is one of the most popular "men's health" complexes – along with huge Thermas (Diputació 46) and newish Buenos Aires (Urgell 114). To take airs 24/7, climb Montjuïc, to its gardens and Olympic area – notably around The Palau. And the midday sun can't hide the gays and strays all along the miles and miles of Barceloneta, that unique and amazing inner-city beach – especially at Playa Sant Sebastia.
OTHER USEFUL CONTACTS