Getting sexy in Salt Lake City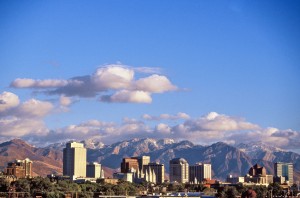 Ushered onto the global stage by the 2002 Winter Olympic Games, Salt Lake City might still be best known as the base of the Latter-day Saints Church. But JD van Zyl found underneath its perfectly pristine Mormon veneer hides a surprisingly rewarding and gay-friendly destination.
"Try the AMF," the lad next to me says while pushing to get a little closer to the bar.
"The what?"
"AMF," he repeats, "it's what everybody here drinks."
"Right then," I shout to the bartender behind the counter, "one AMF please. Whatever that is."
Clearly I must have looked even more helpless than I felt to illicit such eager help from a stranger. Then again it isn't the first time on this trip that a local's interest levels suddenly perk up after noticing my English tones. For many Americans a foreign accent appears to be as irresistible as catnip.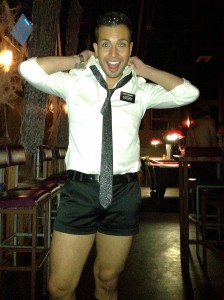 Right now I am crammed against the counter of Pure, a Friday gay club night hosted at the otherwise straight Club Sound, and the place is filled to the gunwales. Unlike the tight-knit layout of European gay villages where different clubs and bars are usually within easy walking distance of each other, in Salt Lake, Utah (or as I affectionately call it SL, UT), places are decidedly more spaced out. There are only three other gay bars and clubs that can easily be reached by foot from Pure. For anywhere else you have to get in your car and drive, or take a taxi. And considering Utah's zero tolerance approach to drinking and driving it usually comes down to the latter. Forget about legal limits, driving in Utah after you've drunk anything with more kick than a Coke can land yourself in seriously hot water.
Back at Pure it didn't take long for me to regret my own choice of drink. The pint glass that is being pushed in my direction now is filled to the brim with a concoction of toxic-coloured blue booze of seriously dubious origin.
"It's called Adios Motherf**cker because after you drink it it's bye-bye," explains Shane. The two of us randomly met the previous night and Shane has kindly offered to act as my unofficial guide for the evening. "You're gonna love it!"
Had I known exactly what the club's signature drink entailed, I might have been slightly more reluctant to follow the recommendation of a complete stranger earlier at the bar. Clearly there wasn't going to be any more driving for yours truly tonight.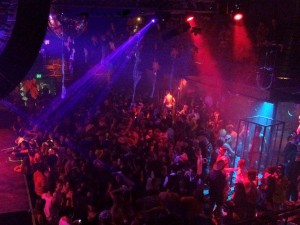 Salt Lake City, or simply Salt Lake as locals call it, is best known to many for its ties to the Mormon faith. After all, the city is the headquarters of The Church of Jesus Christ of Latter-day Saints with its 14 million members worldwide and is also home to the world's largest Mormon temple. But as my visit to the Utah capital has been progressing I've found it a refreshingly liberal and open minded city. Probably because unlike small-town Utah, Salt Lake itself boasts a non-Mormon majority among its 1.12 million residents.
According to Shane, who can't believe how little progress I have made with my AMF (I've barely dented it), the inescapable presence of the LDS Church does have its advantages.
"Those repressed Mormon boys are so easy to bang it's like shooting fish in a barrel," he grins when I ask him what it is like to live a city with such strong religious links. "Mix that with the gorgeous mountains and perfect sunsets every night and little Salt Lake is a slice of heaven."
And he does have a point. Salt Lake certainly has its appeal: A decent gay scene, impressive shopping and striking sights, including as many Mormon-related attractions as you could wish for in one lifetime. But it is the spectacular natural attractions right on its doorstep that appeal even more to many of its visitors.
Take Park City for instance. Located just 30 minutes from downtown Salt Lake it hosts the prestigious and star-studded Sundance film festival every year and is home to three world-class ski resorts and some of the finest slopes in North America. Blessed with nearly 150 inches of light powdery snow every year it isn't hard to understand why this picturesque ski village with its historically preserved Main Street played a key part during the 2002 Salt Lake City Winter Olympics. In 2012 the village will host a decidedly more rainbow-coloured event when Elevation Utah rolls into town for its second annual gay ski week, starting on February 23rd.
Fancy something a little more rugged? Then best head south towards Moab and the heart of the American West. Billed as the adventure capital of Utah, Moab is located between two spectacular National Parks and a stunning State Park. The rugged terrain and expansive landscapes of the Desert Southwest stands in strong contrast to the Rocky Mountains, and begs to be biked, hiked and explored in a myriad other ways. Arches National Park is an unmissable destination here, with its wealth of over 2,000 natural red sandstone arches, including the iconic Delicate Arch which has graced the cover of many a travel guide.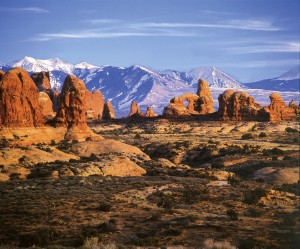 Whether it is rock climbing and hot air ballooning you're after or if you lean more towards speed boating and off-roading, there is no shortage of adrenalin-filled activities for outdoor enthusiasts in Moab and its surrounds. Be sure to time your visit carefully though. Summer temperatures in these arid parts can hit scorching highs of 40°C and more while the mercury can plummet as low as -15°C during the winter months. Even in spring and autumn Utah mornings and evenings often have a bite to them because of the generally high elevation of the state, though midday temperatures are normally in the region of a very pleasant (and usually sunny) 25°C.
Two days after exploring the fruits of Salt Lake's nightlife with Shane, it is time to jet home again. All too soon. Despite the relative brevity of my homebound Lufthansa flight (it takes less than eight hours to travel from JFK to Frankfurt), the quiet of the cabin gives me the perfect opportunity to reflect on my trip.
Like any major city Salt Lake isn't without its own set of problems, many of it linked directly or indirectly to the Latter-day Saints Church. Despite Shane's notion that the Mormon Church provides a fertile hunting ground, its "love the sinner not the sin" rhetoric has been linked to some cases of homophobia in the Utah capital. But beyond these isolated instances and underneath that perfectly pristine Mormon image is a city that rewards you handsomely with a virtually unrivalled outdoors playground, buckets of charm and surprisingly open-minded locals.

Where to stay: Centrally located within walking distance from downtown Salt Lake and major sites like historic Temple Square (for further afield there is always the free shuttle service), the Red Lion Hotel Salt Lake is an excellent option. It boasts 393 well-appointed rooms, a fitness studio and a pool for the hot summer months. www.saltlakecityredlion.com. A worthy alternative is the Salt Lake Hilton, also located in the heart of downtown Salt Lake. www.hilton.com.
How to get there: While there are more direct options to get to Salt Lake, JD opted to fly with Lufthansa (www.lufthansa.com) from Manchester to New York for a spot of Manhattan shopping before continuing his journey to Salt Lake. In 2011 New York became Lufthansa's first A380 destination in North America, and the airline also debuted its brand new First Class cabin on this route. Once in the US few airlines can rival the offering of JetBlue (www.jetblue.com) and their expansive route network. Despite being positioned as a low-cost airline, there is nothing cheap about JetBlue other than their fares. Expect plush chairs, oodles of leg room and the friendliest cabin crew around for miles.
General: Utah's dedicated UK website www.goutah.co.uk as well as their general www.visitutah.com website provide a wealth of information to help plan your trip and to make the most of your time in the state. For more information about Moab visit the official www.discovermoab.com tourism information website.