Tellin' Stories – Terry George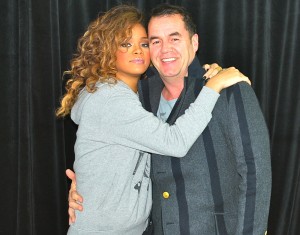 The last time I met Rihanna I wasn't sure about her. It was at the Royal Variety Show last year and of all the stars I stopped to chat to and have a photo taken with it was she who was the most aloof and diva-like. She was refusing any and all photo requests and just swished past the waiting crowd to make her appearance on stage then just as quickly head back to her dressing room. My impression was that she was way too far up herself and was heading for a fall. Just shows what I know; now she's one of the biggest female pop stars in the world. However, a friend of mine is a big fan and as a treat he'd got us tickets for the show and as a surprise also paid for a 'meet and greet' session after the performance. It cost £300 plus the cost of the concert ticket I might add, and we were told we'd be in a select group of about 25 people and we'd get to take photographs and have a chat with the star herself.  Now, I have to say that I have never paid to meet a celebrity in my life, so I was more than a little intrigued as to how this would work.  The show was fantastic, no complaints there, and after the show we congregated at the foot of the stage as the crew set about de-rigging. The main doors were open and a chill wind was blowing through the arena, there was also a much larger group waiting for this special 'meet and greet' session. In fact, there was about five times the number that we'd been told to expect but she is a big star, so I suppose more and more fans would want to meet her. We sat waiting and freezing in the cold for over an hour before we were ushered backstage for our big moment. We were rushed in, didn't get chance to ask any questions, shoved into a small area with Rihanna (who was all smiles and happiness) and a chap took a photo of us one at a time and given a memory stick with the image on it. All in all, we were in that 'meet and greet' for about 15 seconds. I did a quick calculation £300×125=£37,500, not a bad little earner for a little over 30 minutes 'work'.  So, no wonder she didn't stop for free photos when there was such a financial opportunity waiting. However, this is for real diehard fans but I have to confess that the photo of me with Rihanna on my Facebook page is the one I have received most positive comments about… ever.
Later in the month I found myself at the Royal Variety Show at the wonderful Lowry Complex in Salford. It is the first time they have held the show at this venue where The Princess Royal was the guest of honour, and I was pleased such big names as Barry Manilow, Tony Bennett, Cee Lo Green and a host of other stars had made the bill for this fantastic yearly event. Of course 'local' comedian, and all round hero, Peter Kay was acting has Master of Ceremonies and kept the crowd laughing and in good humour throughout the long show.  As some of our readers may know, I love these events and can never get enough of any photo opportunity that arises.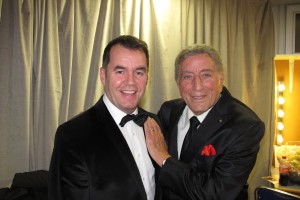 However, some opportunities you have to make for yourself and on this on occasion, I did just that. After they had to do a re-take on Barry Manilow's set, he was having synch problems with a delay on his play-back equipment (he was singing perfectly by the way) I found myself in the corridor outside Tony Bennett's dressing room. I'm not one to barge in on people so I tentatively knocked and, holding a running order I'd found in the hallway, told the star that there was a slight delay and he'd be needed shortly. He and his wife were the only two people in the dressing room and he was polite and said that it was no worry, and smiling, said he'd still be there when he was needed. I smiled my most endearing smile and asked him if he'd mind if I could have a photograph taken with him. The man is 85 years-old and must be fed up of people constantly asking for photos or autographs but Tony was such a nice man he quickly agreed. He even slipped on his jacket to make the photograph look better, while his dear wife got us both in focus and took the shot. I was absolutely thrilled and his warmth and friendliness will stay with me for a long time. I have to add that this year there were no diva, or divas in the making, as everyone I asked seemed more than happy to pose with me. So thanks to the brilliant and very funny Penn and Teller, Aussie comic Tim Minchin, the wildly entertaining and humorous, Cee Lo Green all of the fantastic stars who went out of their way to make sure I got the photographs that I could share with you.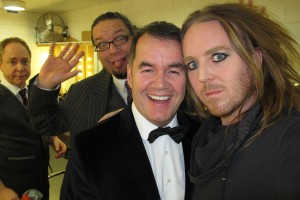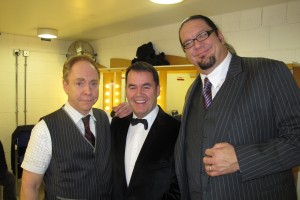 Facebook.com/TerryGeorgeUK