A new world record set on World AIDS Day 2011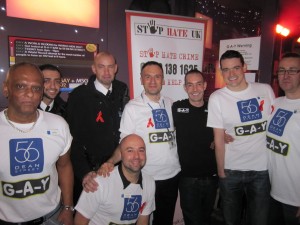 56 Dean Street and G-A-Y have set a new record for the number of HIV tests administered in 8 hours
On Thursday 1st December 2011, 56 Dean Street and G-A-Y set a new Guinness World Record for administering a staggering 467 HIV tests in 8-hours.
The organisers were thrilled with the number of people that showed up to participate in, and support, the event. Dr Alan McOwan, Lead Consultant at 56 Dean Street (part of Chelsea and Westminster Hospital NHS Foundation Trust) said: "By organising this event, 56 Dean Street and G-A-Y have taken a proactive stance in the battle against HIV. World AIDS Day provided us with a fantastic platform to build on the message of awareness and education. This has been a truly worthwhile event and I would like to thank all involved for making the day so successful."
During the event, GMI (Gay Men's Interaction) Partnership was on-site all evening to provide free and confidential advice surrounding HIV and testing. They provide counselling, mentoring and health training to those in need, at-risk or simply seeking more information. Living Well were also present to offer information surrounding the services they co-ordinate in the community for those living with HIV.
Not only has this event raised the much needed awareness around the issue of HIV and AIDS, it also proved to be a successful fundraising occasion. G-A-Y will generously donate £10,000 to the Elton John AIDS Foundation, while an extra £2,823 raised on the day will also be donated.
However the campaign must not stop there. People who are aware they have HIV are three and a half times less likely to pass on HIV to others1. In addition, 77% of AIDS-related deaths are caused by late diagnosis of HIV2.
56 Dean Street is committed to bringing confidential and effective care and education to those in the community on a daily basis. People can walk in, without an appointment, for 56 Dean Street's 60-second HIV test, it is performed on-site and will detect most infections six weeks after exposure to HIV. The clinic also utilises an HIV test that can detect HIV as early as two weeks after exposure, but will need to be sent to the laboratory and takes three working days for a result. Free, on-the-spot Hepatitis B vaccinations, as well as appointments for more comprehensive sexual health services and advice are also available from 56 Dean Street.