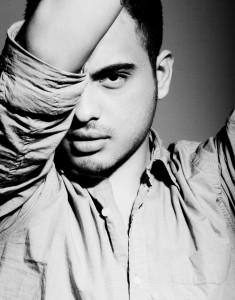 If he was a contestant on the X-Factor, rising pop star and openly gay New York based producer/songwriter Solomon has a back story that many would kill for.
Born in San Diego to a half Puerto-Rican/half African-American family , Solomon has had to live through some of life's hardest challenges including his  own adoption, coming out, family drug addiction and even his own father's incarceration.   Yes, he's had to grow up quickly, but in the end, Solomon is armed with an arsenal of life experience to sing and rap about. We caught up with this good-looking, young future superstar in New York and asked if being gay had led to any problems with the Hip-Hop crowd, and if so, how did he deal with them?
When I was doing mostly rap music it was a bit of a challenge but at the same time I received so much support. Eminem invited me on his radio show and I was featured on a lot of Hip-Hop blogs. Granted, it is very much a straight male dominated industry, but I never ran into any problems. Now that I do more Pop music I find it harder. As with Hip-Hop I got radio play here and there from my mix-tape tracks but now doing Pop it's virtually impossible to get any sort of radio play or mention in the U.S. You would think it would be the other way around. I think being gay and doing Pop music is harder because you don't get taken seriously. There's a lot of Pop guys out there denying and hiding their sexuality and that's a pretty douchey thing to do. There are too many young kids out there that are struggling and need some sort of validation. So why not be a voice?
Having always been involved in music and writing from an early age and using music as his method of escapism, Solomon enjoyed his times as a young choirboy and soaked up the heavy influences of his pop idols like the late, great icon that is Michael Jackson and even more so by his feisty and "underappreciated" sister Janet Jackson – who Solomon describes as "more artistic" than the rest of her famous brothers and sisters.  Drawing huge influences from his muses like Biggie Smalls and an undying obsession with Lil Kim and other 1990s rap and R&B artists – hip-hop with an urban edge remains deeply rooted in Solomon's efforts to make accessible and relevant pop music today.
Having started up his own record label (SolRay Records), Solomon recorded his debut EP "Shades Of Black" in 2009 after a tough and trying relationship and breakup with his boyfriend at the time.  When reflecting back upon it now, Solomon describes "Shades Of Black" as a "really sad and frustrating record based on aggression".   Having experienced hardship and anger growing up, it was much easier for Solomon to write raps at the time, rather than pop songs.
So, on the back of that experience are you single… do you even have time for a boyfriend?
I am very much single! This year I was in a nauseating relationship that taught me a lot about people and issues. I've seen enough Oprah to learn that sometimes people can carry a lot of unresolved childhood issue and insecurities that get the best of them. But it's important not to let their issues get the best of you. So I am very glad to be out of that situation and enjoying my time being single and doing what I want to do, when I want to.
Recently,  Solomon released his new highly anticipated record called "THE LOVE ROCKER PROJECT" – a collection of exciting and uber fresh pop tracks that pack a stylistic and vivid bang – inspired by colour and movement – something not represented in his previous recordings.  Take for instance club anthem "Wit Us U Can't…" which explores more of Solomon's confident exterior with a killer rap and dub step breakdown that would make even Britney Spears go green with envy.
Do you get out on the gay scene in New York much? What is your favourite place to hang out?
My friends have to literally drag me out of my apartment to go out. And once I'm out I have a blast. I like a lot of hole-in-the-wall bars. The kind of bars in the East Village with peanuts on the floor and reek of booze. Love that. Places that are polished and upscale with pretty people I always feel out of place. But typically on a weekend you can catch me at home drinking green tea and reading the newspaper and magazines. There's something great about getting your news through print instead of TV and the Internet.
"THE LOVE ROCKER PROJECT" has given Solomon the chance to fully realize all the crazy creative genius going on artistically inside his head.  The future looks hopeful for this rising pop star that has lived through the worst and come out of it a polished and confident performer with heaps of potential.  Having been hailed a brilliant rapper in the hip-hop world and honing in on his creative prowess for his new pop record – you can bet that once you hear the music of Solomon, it will stick with you for a while – and that's something you definitely can't mess with.
So, where's the best place you have performed?
I would have to say New York. The energy is great. Also Los Angeles. I've done large festivals with huge crowds and those are fantastic. But nothing better than an intimate setting. I'm itching to get overseas… I heard the UK audience is great! Everyone's been telling me that, so I'm beyond excited to perform there. In fact, I'm looking forward to doing some promo this upcoming year in the UK with a couple of shows as well. I have a great following there and owe it to my fans to show my gratitude.
You can download Solomon's EP "The Love Rocker Project" from his website