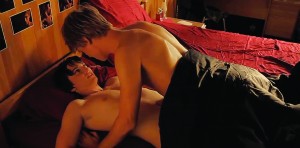 For a young guy to make the leap from starring in porn movies to be given a serious acting role isn't the easiest of steps to take but for Brent Corrigan that step up the cinematic ladder proved that the lad has talent beyond his naked bum. Blond Brent takes on a challenging role in the latest DVD from TLA Releasing, Judas Kiss – Ryan Houston posed the questions.
So Brent what is Judas Kiss all about?
Judas Kiss is about getting off your ass and fixing the things that you got wrong the first time through some unnatural circumstances. Zachary Wells (Charlie David) returns to his film school and through a wrinkle in time he's faced with a younger version of himself (Richard Harmon), who, at the time, is at a cross roads. The main character can change his life for the better – put an end to his creative slump – by not allowing his younger version to cut corners. My character, Chris Wachowsky, is a successful visionary that attends the school. He's the good boy. And no, playing this role really wasn't as big of a stretch as people like to tease me for!
How does it compare for you from working in the porn industry to moving into the movie industry?
I prefer mainstream, non porn roles these days. They're just a whole lot more challenging. Stimulating, if you will. Doing porn came second nature to me. I was fortunate enough to be effortlessly good at it. Acting and mainstream work require dedication, training, craft and preparation. I love that! I'm enamoured with entertaining people. I want to be a part of telling stories. There's only so many places you can go with that in the adult arena.
What was it like for you working with a group of people closely for the film?
Rewarding!  I've been met with so much adversity and resistance in the past – it's thrilling to be shown that life isn't really like that at every turn for people.  J.T. Tepnapa, the director, was very considerate to give me a chance to prove that I can do this work and not have to use my naked body to captivate people. The actors were all supportive of where I was coming from.  Understanding my lack of true experience with this kind of work, each of my on-screen partners helped work with me on and off set to get it all as great as can be.  Because of my experience on Judas Kiss I can't wait to work on other projects and make other movies!
Do you think fans of yours get confused and don't expect you to be in this kind of film because they're so used to seeing you in a different role?
No, I don't think anyone can confuse Judas Kiss as an adult film. The production quality – and the locations it screens at (GLBT Film Festivals) – don't really allow for that to happen. Judas Kiss is tied for the biggest role I've ever taken on in a mainstream project for me but doing non-porn acting work isn't a new prospect.  I might be branching out these days but I can always be found on my adult website www.TheNewBrentCorrigan.com. I still sell my toyline with Fleshjack there as well as offer my best scenes, streaming!
Who would you say this kind of film is for?
This film can be an eye opener for young people who think they've got the world by the balls – or older gentlemen who are feeling like they can't make a change for themselves. I really do believe this is a film for all ages. It has a slight sci-fi element to it but I've never heard anyone who doesn't necessarily gravitate that direction in taste complain about that.  Also, I'd like to say this film is definitely for anyone who thinks the only place I belong is on an adult set.  But don't take my word for it! See for yourself ;-)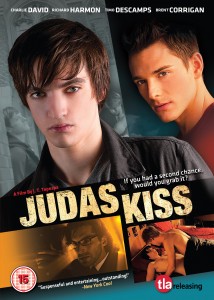 Out: 7th November – tla releasing