Falkirk born actor David Paisley is one of the most recognisable faces on British TV, especially if you are gay and love to watch a good looking gay guy, play being gay.
David will probably hate being called a 'gay actor' but the parts he's landed – like 17-year-old Ryan Taylor in Tinsel Town who falls in love with a man twice his age or gay midwife Ben Saunders in BBC1's popular medical soap Holby City have more-or-less made his name as just that.  I'm sure he's not one to complain about such a title and besides, a few years back, he was voted 'sexiest actor' in a Gay Times poll. However, in his latest DVD, Unhappy Birthday, he is one of three outsiders who  battle against the twisted morals of an antiquated community… think the horror movie The Wicker Man and you might get an idea of what is in store for our heroes.
Tell our readers about your character in Unhappy Birthday?
Rick is a young man on a weekend trip with his girlfriend Sadie and their best friend Johnny. He's taking them to the remote Island of Amen, as a surprise birthday treat, to meet Corin, a woman who claims to be Sadie's long lost sister. Rick is hiding other secrets from Sadie too, which could prove to be his undoing.
Were you a fan of the thriller/horror genre before you took the part?
I get too scared to watch most horror films; I'm a bit of a wimp. I've ended up in the cinema kneeling on the floor with my head on my seat, fingers in ears before trying to block out what's happening onscreen. I don't actually enjoy the sensation of being scared, so it's not really ideal for me, as a viewer.  Although oddly enough horror/suspense films account for some of my favourites; Alien, Carrie, The Birds. I love those films, so I suppose if a film is good enough I can overlook how scary it might be.
What were the worst aspects of filming your scenes?
Freezing my bum off semi naked covered in fake blood in the north of England in winter isn't my ideal weekend away.
Are you at ease with being naked?
I'm really not that bothered by it, it's just skin I guess. I don't have a particularly amazing body, I'm fairly average to be honest but I don't feel particularly hung up about it so if a role requires nudity, and it's not gratuitous or exploitative, then I don't really have a problem with it.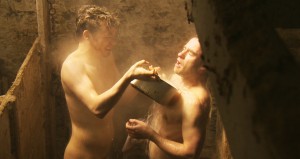 You've made a reputation for yourself as a boundary pushing gay actor – did you plan this or was it all just a 'pleasant' accident?
Well, I'm just an actor, I've been lucky enough to secure some roles that have stuck in people's minds. Back when I started out it was quite rare for an actor to be gay, playing a gay role and to be out and comfortable talking about it. It's less and less of an issue these days, and that's the way it should be. Becoming an actor at all was pretty much a pleasant accident so the direction my career took thereafter has been lovely but not particularly by design.
You've appeared in some really terrific gay themed productions… are you allowed to have a favourite… and why?
Well it would have to be Tinsel Town, working with Raindog and creating those characters, it was just a remarkable production to be involved with as my first professional job. It was probably one of the best experiences of my acting life, other than my stage work.
Are you in awe at the way your career has progressed from Tinsel Town to where you are now?
I feel very lucky to have had the career I've had and to have had the opportunities that have come my way. I've been acting for over a decade now and I feel blessed to have been able to do some really interesting and varied work.
Tell us about your directorial moves.
I directed The Lasses, O at the Edinburgh Festival Fringe last year. It was well received, got some brilliant reviews, and we sold out the run, which was a great achievement and I'm hoping to take a new show up to Edinburgh next year. The Lasses, O was my first outing as director and it turned out quite well. It was a really rewarding, if exhausting, experience and I'm really keen to do it again.
When can we see you next in front of the camera?
My next few projects are all stage I'm afraid. I mostly prefer theatre these days; it's where I feel most comfortable and where I've found the most challenging roles. I wish there was more Sci Fi and fantasy on British TV because that I would love, I'm a proper geek.
And for all the guys out there who just need to know… what is your favourite brand and style of underwear? (Sorry but I get threatening letters if I don't ask)
Someone bought me some lovely pants from 2(x)ist not that long ago. I'm not really very up on things like that and tend to wear some fairly unflattering undergarments. I think that's why said person bought me the fancy pants.
DVD – Unhappy Birthday Out Now – Peccadillo Pictures