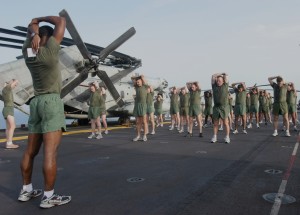 Now here's a nice turn around on policy from that bastion of the US military most opposed to ending "don't ask, don't tell," the U.S. Marine Corps.
According to the LA Times – recruiters from the Marine Corps we're out in full-force recently  at the San Gabriel Valley Pride event at Pasadena City College.
"The end of the hush-hush era opens up another qualified pool of applicants," said Sgt. Monique Wallace, marketing and public affairs representative for the Marine Corps' Recruiting Station Los Angeles.
Whether or not the end of the 17-year-old policy will result in a wave of new openly gay recruits remains to be seen, but it appears that the military, or at least the Marine Corps, isn't wasting any time tapping the potential of the LGBT community.