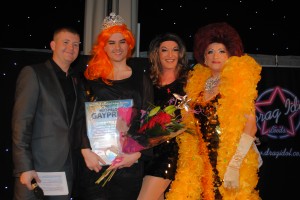 Photo by Grizz
Eight Drag Idol wanna-bes took to the stage at this year's annual Mesmac fundraising event. As always, the place was packed with an enthusiastic crowd ready to cheer the sequinned contestants and gaze in amazement as they performed their act. The judging panel included Coronation Street  star and former Eastender, Michelle Collins, amongst others who commented on the talent, make-up and dress sense (or lack of it) of the eager, though friendly, contenders. It was Simon Millea as 'Adele PC' who took to the stage and stunned everyone with his live version of the '21' stars single – Someone Like You. The almost flawless act was added to by his tragic make-up (as one of the judges commented "just like Adele's") and his emotional delivery got the crowd i screaming for more. As the judges scores were totted up Tania Alboni treated the expectant crowd to her tribute to Cher.
Once the results were in it was 'Adele PC'who took first place and as a result won a week's holiday in Gran Canaria, which also gives an automatic place into the FINAL of the Gay Pride Maspalomas Drag Gala Competition. That also brings with it the opportunity to perform on the BIG main stage to thousands and thousands of people, competing against Drag Queens from all over Europe and it will be televised.
Maspalomas Gay Pride is one of the Top 5 in Europe, so no pressure on Simon to come back a STAR!!