Johan's Blog – Everyone… do the Hustlaball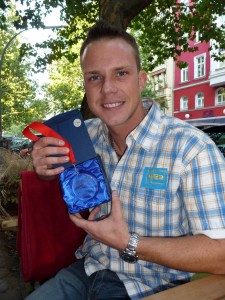 This party's not one for divas. This party's just about one thing: sex! The Hustlaball in Berlin – the biggest gay party in Europe – is a celebration of lust and cock! Here you can enjoy the hottest guys, the horniest and most explicit shows imaginable – with music thrown in for good measure.
After a twelve month break I was once again back at the Hustlaball – and, as always, I was very much overdressed! I had a tank-top, jeans and trainers, and it was definitely too much. At the very least I should've gone topless or simply wearing a leather thong – if not totally naked! About 40% of the guests preferred the leather and hairy style, another 40% sported naked skin of one kind or another, and the remaining 20% (my boyfriend and I included) watched the ceremony feeling slightly scared. To be honest I didn't want to see so much naked flesh. Indeed, I'd have preferred it if some of the guys there had worn tee-shirts over their XXL bellies and covered their XXXS cocks!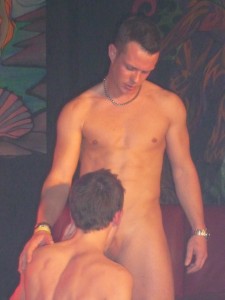 It's the only event of its kind where you can come just as you are and be exactly what you want. Come as a drag-queen, as a leather slave, as yourself – whatever. The important thing is that you have fun and enjoy the occasion – which is exactly what I decided to do the moment I arrived.
It began with the annual Hustlaball awards, the biggest and most prestigious gay porn awards in Europe, which are selected by an internet audience during the weeks leading up to the event. It's a bit like a version of the Oscars for European gay porn – but without the glamour. It was an hour-long event which saw us all standing in front of a stage with two guys reading names of movies and models from a list. True, it doesn't sound very exciting, but hey I'm not complaining. I've won possibly the most important prize in gay porn: the Honorary Lifetime Award. A big thank you to all of you out there who voted for me and who've given me support over the past eight years in which I've been in this business. Believe me, this award has made me really proud.
After that the real Hustlaball began …
It was quite fun to see all the old colleagues again, to chat with fans, to dance a little bit and to enjoy the sexy atmosphere. I still find it totally unbelievable that so many people recognize me. Clearly my face is as famous in this business as the lower parts of my body!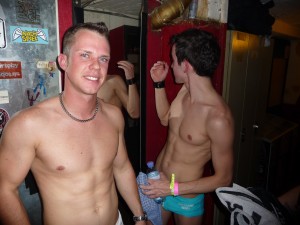 So the hours passed with a series of chats with different guys and a few beers, until it was time to prepare for our little hardcore show at 02:45 on the main stage. The venue had a small downstairs dressing room which was soon full of us porn actors and go-go dancers preparing for our performances on the different stages. Believe me, all human life was there – cute twinks, drag-queens, buff muscle men, leather cowboys, submissive slaves on their knees or on dog-leads. You name it, it was there.
We were all busy flexing our muscles, styling our hair and getting our cocks hard. After all, even the most masculine leather guy never steps onto a stage with perfect hair – even if he's completely bald! Unfortunately, however, our dressing rooms were filled with an omnipresent collection of pseudo VIPs. Who they are, where they get their access passes from and why they're there is anyone's guess, but most of them are no more than C-class assistants from some minor sponsors. Nevertheless, these people were perpetually standing in our way, trying to touch us and taking photos of us naked (and wanking!) – whilst all the time quite literally drooling from the corner of their mouths!
The show that followed was a little bit special. As we entered the stage quite a number of the guys standing in the front row of the audience asked me if I could do my cum-shot in their faces – indeed, they were even prepared to pay me a few Euros for the privilege. As it happens, I needed all my powers of concentration when it came to my cum-shot so I declined. What's more – and you can call me old-fashioned if you wish – I don't find the idea of cumming in the face of a total stranger either very horny or very appropriate; but a lot of the other models were more than happy to oblige, collecting some nice extra cash in the process!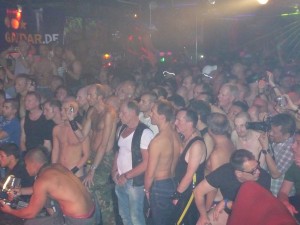 After our show we all relaxed in the special VIP area of our friend Marcel from the famous Berlin Apollo Splash Sauna, where we have regular monthly shows and appearances – I hope to see you there! Here there was a great big swimming pool, and we were able to sit in comfy deckchairs, enjoy our beers and watch as people merrily fucked away in the water … whilst approximately 5000 gays had the wildest party of the year around us! In short, totally, totally crazy!!
Still, this is exactly why I like the Hustlaball so much. Here you can find and do everything. Here you can dance and meet with friends. Here you can enjoy beers and cocktails or chat with interesting people that you haven't seen for a while. And here, of course, you can live out your fetishes and dreams.
One really weird situation happened in the toilets. I needed a pee and went to the "public" conveniences rather than the VIP toilets, where I knew there'd be a long line of guys waiting for the privacy of a cubicle for a sniff – something I wished to avoid.
Arriving at the long urinal, I found a guy sitting in it, wearing only a leather thong and long leather biker boots. He was asking everybody to piss into his mouth and all over his body, and most of the guys there were only too happy to oblige. Alas, this wasn't really my cup of tea. Believe me, in my 8 years in gay porn I've seen a lot of things – and done quite a few as well. But this was just too, too much. Hence I preferred to wait for an empty cubicle.
Overall, it was a funny old evening; but I was back at my hotel at around 5am and was only too happy to enjoy the soft linen and a warm cuddle with my boyfriend. The Hustlaball is always a very weird but extremely special event and I'd definitely like to go there again in 2012. But once every twelve months is more than enough. Indeed, I now need the next 364 days to recover and to prepare for this time next year!
Hugs
Johan