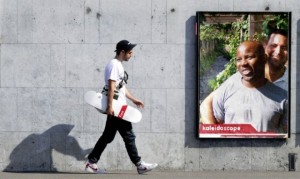 Kaleidoscope, a new organisation to support gay men and lesbians around the world from prejudice and discrimination, its aim is diversity and respect for all regardless of sexuality. It will work alongside local activists and groups to fight the threat of persecution, imprisonment and even death.
One of the founding members of Kaleidoscope, Bisi Alimi, said:
'I was the first person from Nigeria to openly declare my sexuality on national television. As a result I was attacked, tied up and beaten in my own home in Lagos. For the first time in my life I not only saw a gun but I felt it right against my head. I was forced to leave my country. My dream is that others like me will be free to stay and be happy surrounded by the love of their friends and families. Kaleidoscope can make a real difference, so I hope people will support us so that maybe one day my dream will come true.'
Kaleidoscope is backed by a number of prominent individuals including:
Elton John, George Michael, Amy Lamé, John Barrowman, Trevor Philips, Angela Mason, Simon Fanshawe, Matthew Parris, Sir Nick Partridge.
Kaleidoscope is seeking donations large and small to help fight homophobia around the world.
The broadcaster Paul Gambaccini, who has made the first donation, said:
'I have been passionate about working for human rights ever since my classmates and I read a Martin Luther King comic book in 1961.  This struggle has in my life been waged on behalf of black Americans, women, gays, and non-white South Africans.  It is time for those of us who enjoy our rights in the UK to support movements for dignity and decency wherever they are located.'