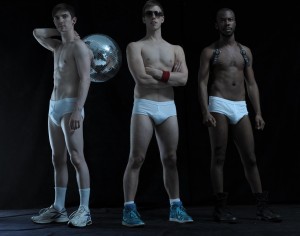 Homotopia's 8th festival brings audiences 5 new commissions and 4 world premieres amongst over 30 events across Liverpool throughout November.  This year's theme is 'Cruising For Art' showcasing an array of the queer, the extravagant, the bold, the unexpected and the daring. A celebration of 21st century LGBT life with an eclectic programme of theatre, dance, film, cabaret & discussion.
2011 has been an important year for Homotopia as it successfully achieved National Portfolio status from Arts Council England. Gary Everett, Homotopia's Artistic Director said at the time of the award;
One of the World Premiere a dance piece called Cruising, Clubbing, Fucking; a dance-theatre performance exploring how gay men have met and seduced each other, from the 60's to the present day. Blending bodies with beats and contemporary dance styles with gesture, the three dancers move their way through this world of late night lust, combining seduction, sex and moments of human tenderness. 2nd&3rd Nov – 8pm – Unity Theatre
Meanwhile, there's Savage Style: costumes from Lily's Wardrobe from the 4thNov thru to 19thFeb  at The Walker Art Gallery and the Museum of Liverpool.
Also making a show is the Alternative Miss Liverpool  – A pageant like no other and a competition that will set Liverpool alight. Featuring live music, performance & dance. The event is open to participants and anyone can enter. 12th November at The Kazimier. Hosted by David Hoyle and featuring Carry On starlet and Morecambe and Wise favourite Fenella Fielding as celebrity judge. Traditional Rounds of Daywear & Evening Wear with categories to include; Butch/Femme Realness, Peacock Punks, Neo-Romantics, Tom-Boys,vLiverpool Spinster, Confirmed Bachelors, Queens Of The Nile, Ladyfags and SPECIAL VIP Tribute Category LIZ TAYLOR.
Photo: Hugo Glendinning