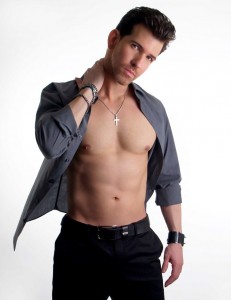 A NEW WORLD
By Randy Myers
After nabbing the #1 position on the music countdown show of America's gay TV channel, LOGO, for four weeks in a row last winter, Aiden Leslie's "World's Away" became the sleeper hit of the gay dance floor.  This month, the out-artist releases his follow-up single "Trying to Leave Now".  Penned by Leslie, the track is about salvaging what is right in a relationship before losing everything.  It reads like a page out of Leslie's own diary.
"I wrote Trying to Leave Now about a person in my life I have always had deep feelings for, but was afraid to express", explained Aiden Leslie from his studio in New York.  "We eventually came together but at the wrong time in both of our lives, making it impossible to pursue.  We had such a long history; we had to ask ourselves if what was at stake was worth losing."
Leslie says he was forced to battle trying to leave while the feelings were still strong and alive.
"When it comes to love, things are not black and white," says Leslie.  "If love isn't working, it's important to be honest with yourself and to find the courage to say what you feel to the other person, and understand that sometimes, leaving is the only option."
"Trying to Leave Now" was produced by Mike Degen, who has worked with Public Enemy, Anna Vassi and Rupaul. Remixers are currently being selected for the upcoming dance remix EP.
"I learned from 'World's Away' that everything is a stepping stone," continues Aiden Leslie.  "One thing leads to another and it's important to give full energy to each moment in order to propel that moment as far as you can. At some point, though, you have to surrender and let it go to see where it ends up on its own."
"It's the same with life," he concludes.  "Be honest and find the courage to express your true feelings.  The person in your life may choose to follow you to the next stepping stone, or they may choose to head in a different direction.  Ultimately, by embracing the truth, you have nothing to lose, and everything to gain…whatever the outcome may be."