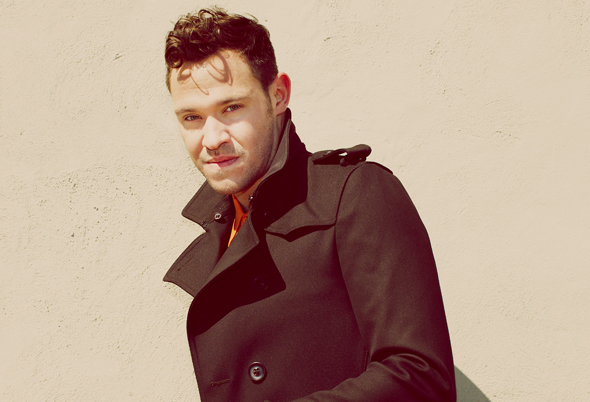 Over the past year Will Young has been a very busy chap. He's guest starred in an episode of 'Skins' for Channel 4 and also made a name for himself starring in the haunting TV drama ' Bedlam'. Moreover he found time to run this year's London Marathon in aid of the Catch 22 charity having spent the last year fitting in training around the writing of the new album in London, LA, the Namibian desert and Sydney.
Now we get the chance to see whether all that work has paid off as not only does Will release a new album and single this month, he also has announced plans for a major UK tour. Will's new album follows up his platinum selling Hits collection and will be preceded by a brand new single, his first release since the acclaimed 'History' collaboration with Groove Armada that became one of the sounds of last summer.
Coming on the 10th anniversary of Will's first audition for Pop Idol in 2001, 'Echoes' is his fifth studio album in a career spawning over 8 million sales so far. August also sees Will host his very own primetime ITV1 Special, to be broadcast on Saturday 27th August, which will consist of live performances of tracks from 'Echoes' along with a selection of his hits and a few surprise guests.
'Echoes' has been produced by Richard X (MIA, Kelis, Goldfrapp) who Will chose after falling in love with Steve Mason's (Beta Band) 'Boys Outside' album that Richard produced. With 'Echoes' Will has sidestepped some of his traditional sounds to move more into the world of electronic music, making an album of sophistry and gentility that pulses with the undercurrents of the dance-floor. The sweeping strings and key changes of his hit ballads have made way for synthesised melody, towards something sparer and more controlled. 'I had to learn to undo my musical muscle memory,' he explains. 'To allow space into the music.'
Following his hugely successful 2008 and 2009 sell-out tours and acclaimed summer festival appearances, Will is ready to astound audiences once more with a nationwide tour in October and November. He will be performing live versions of his new material along with favourites from his past albums.
---
October:

27 Swindon Oasis
28 Bournemouth BIC
30 Belfast The Waterfront
31 Dublin The Olympia
November:

2 Nottingham Royal Centre
3 Oxford New Theatre
4 Ipswich Regent Theatre
6 Liverpool Empire Theatre
7 Blackpool Opera House
8 Sheffield City Hall
10 Aberdeen Music Hall
11 Glasgow O2 Academy
12 Newcastle City Hall
14 Manchester O2 Apollo
15 Llandudno Arena
17 Brighton Centre
18 Cambridge Corn Exchange
20 Birmingham O2 Academy
21/22 London O2 Shepherds Bush Empire
24 Southend Cliffs Pavilion
25 Plymouth Pavilions
26 Cardiff St David's Hall
New Single: JEALOUSY Out: 21st August
New Album: ECHOES Out: 22nd August
RCA Records
---
Several eccentric bits of info about Will Young (which may be true or not)
1. He still practices ballet and was offered the lead in Matthew Bourne's Swan Lake.
2. His favourite disguise is when he's dressed as a granny.
3. Before Pop Idol he had alternative plans for a life as a sailor.
4. His 'rider' contract on tour means there must always be a chilled Aero bar waiting when he comes off stage and a glass of pink champagne.
5. He has an aquarium where he's named all the fish 'Simon'.
6. 6 is his unlucky number. However, the word six isn't.
7. He only wears PVC underpants.
8. He wants to marry Beyonce.
9. He once walked out on a live TV interview, when the interviewer mistakenly called him Gareth and punched a passing badger.
10. He plans to take up the trapeze/juggling/lion taming for his next video.