TEN THINGS YOU NEVER KNEW ABOUT DOMINIC COOPER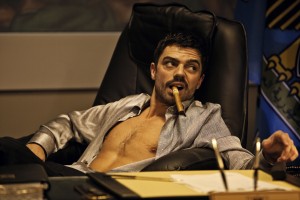 1. Trained professionally at the London Academy of Music and Dramatic Art
2. Replaced Orlando Bloom in An Education.
3. Auditioned for the role of Fandral in Thor.
4. Auditioned for the role of Anton in The Imaginarium of Doctor Parnassus, but lost out to Andrew Garfield.
5. Used to share a house with James Corden who he co-starred with in The History Boys.
6. He never thought The History Boys would be the huge success it was, but felt he ought to accept the role "because it's Alan Bennett".
7. Discovered in 2007 that he had a half-sister he did not know about after she got in touch with Dominic's father after seeing Dominic appear in Down To Earth when her mum said: 'Oh my God, he looks just like your father.'
8. He maintains that, despite the sadness of his sister's death when she was five and parents' subsequent divorce, his childhood was largely a happy one.
9. He only stayed on at school for A-levels only because the drama department wanted him to appear in a school play.
10. Dated Mamma Mia! co-star Amanda Seyfried.
Dominic stars as Saddam Hussein's sadistic son and his double in The Devil's Double out 12th August.