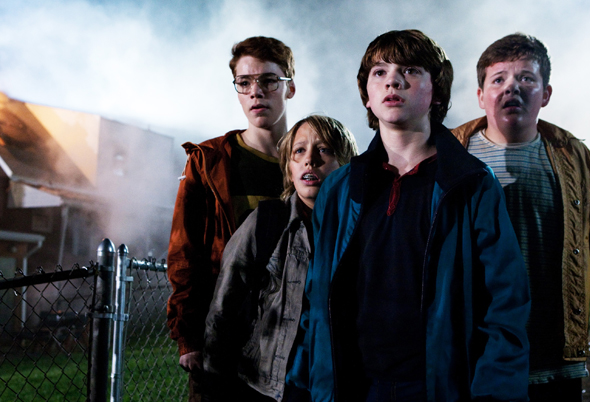 Super 8
Out 5th August
Lost creator JJ Abrams has a crafted a great feel-good friendship movie in the tradition of the Goodies and ET. In the summer of 1979, a group of friends in a small Ohio town witness a catastrophic train crash while making a super 8 movie and soon suspect that it was not an accident. Shortly after, unusual disappearances and inexplicable events begin to take place in town, and the local Deputy tries to uncover the truth – something more terrifying than any of them could have imagined.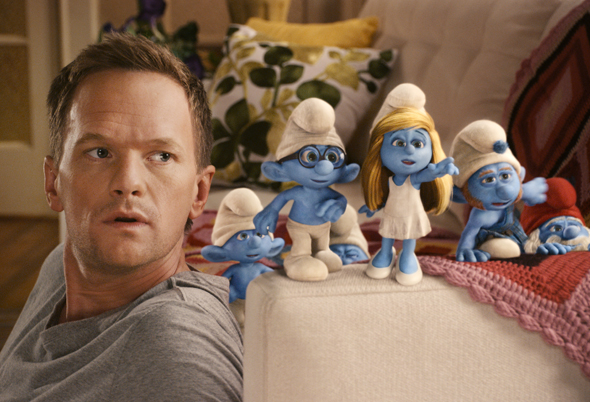 The Smurfs in 3D
Out 10th August
When the evil wizard Gargamel chases the tiny blue Smurfs out of their village, they tumble from their magical world and into ours – in fact, smack dab in the middle of Central Park. Just three apples high and stuck in the Big Apple, the Smurfs must find a way to get back to their village before Gargamel tracks them down. Neil Patrick Harris, Jayma Mays, Sofia Vergara, and Hank Azaria star on camera opposite an all-star voice cast including Katy Perry as Smurfette and Alan Cumming as Gutsy Smurf.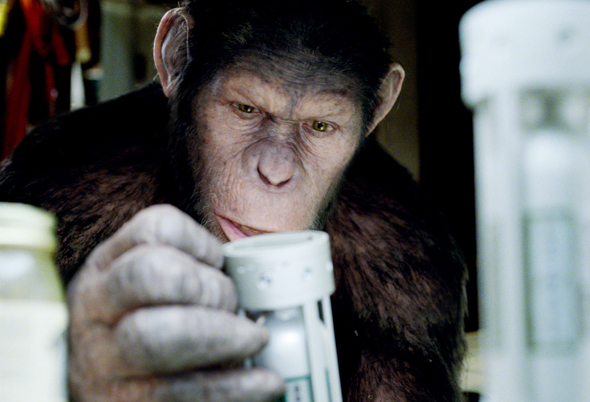 Rise Of The Planet Of The Apes
Out 11th August
Rise of the Apes is an origin story in the truest sense of the term. Set in present day San Francisco, the film is a reality-based cautionary tale, a science fiction/science fact blend, where man's own experiments with genetic engineering lead to the development of intelligence in apes and the onset of a war for supremacy. A single act of both compassion and arrogance leads to a war unlike any other – and to the "Rise of the Planet of the Apes". The Oscar-winning visual effects team that brought to life the worlds of Avatar and Lord of the Rings is breaking new ground, creating a CGI ape that delivers a dramatic performance of unprecedented emotion and intelligence, and epic battles on which rest the upended destinies of man and primate.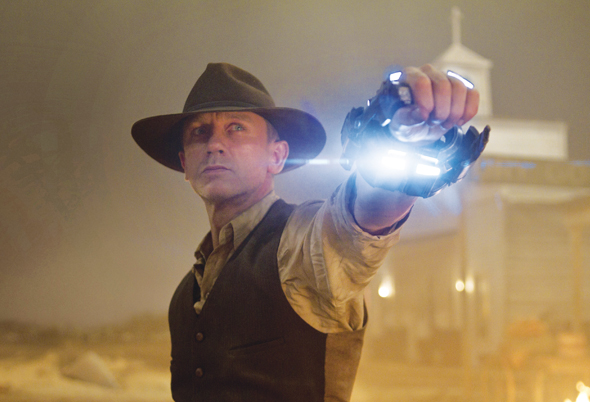 Cowboys & Aliens
Out 11th August
1873. Arizona Territory. A stranger (Daniel Craig) with no memory of his past stumbles into the hard desert town of Absolution; the only hint to his history is a mysterious shackle that encircles one wrist. What he discovers is that the people of Absolution don't welcome strangers, and nobody makes a move on its streets unless ordered to do so by the iron-fisted Colonel Dolarhyde (Harrison Ford). It's a town that lives in fear. But Absolution is about to experience fear it can scarcely comprehend as the desolate city is attacked by marauders from the sky. Screaming down with breath-taking velocity and blinding lights to abduct the helpless one by one, these monsters challenge everything the residents have ever known.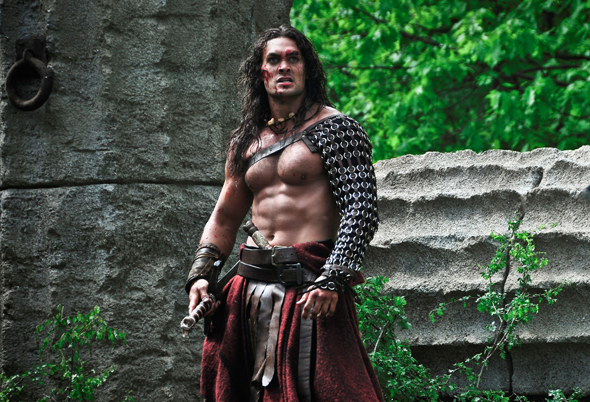 Conan The Barbarian
Out 26th August
The most legendary Barbarian of all time is back this Summer. Having thrived and evolved for eight consecutive decades in the public imagination – in prose and graphics, on the big screen and small, in games and properties of all kinds – Conan's exploits in the Hyborian Age now come alive like never before in a colossal 3D action-adventure film. A quest that begins as a personal vendetta for the fierce Cimmerian warrior soon turns into an epic battle against hulking rivals, horrific monsters, and impossible odds, as Conan realizes he is the only hope of saving the great nations of Hyboria from an encroaching reign of supernatural evil.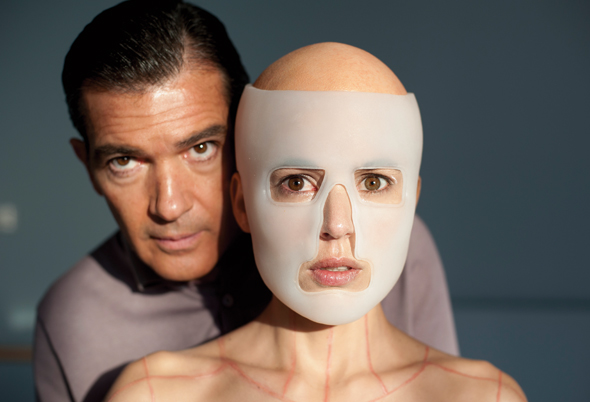 The Skin I Live In
Out 26th August
Antonio Banderas reteams with director Pedro Almodovar in yet another masterpiece. Ever since his wife was burned in a car crash, Dr. Robert Ledgard, an eminent plastic surgeon, has been interested in creating a new skin with which he could have saved her. After twelve years, he manages to cultivate a skin that is a real shield against every assault. In addition to years of study and experimentation, Robert needed a further three things: no scruples, an accomplice and a human guinea pig. Scruples were never a problem. Marilia, the woman who looked after him from the day he was born, is his most faithful accomplice. And as for the human guinea pig…
---
FILM BUZZ
Dwight Yoakam and Helena Bonham Carter are in talks to join Gore Verbinski's The Lone Ranger with Yoakam poised to play the film's villain. The trio would join Armie Hammer (the twins in The Social Network) as the title character and Johnny Depp as Tonto in a story that follows the two heroes as they look to take down the Cavendish gang after they attack the Texas Rangers.
Chris Pine (Star Trek) is rumoured to be MGM's top choice to take the lead in the upcoming Robocop reboot for writer/director Jose Padilha (Elite Squad). Should Pine land the role he would be a full ten years younger than Peter Weller was when he starred in the title role in the 1987 Paul Verhoeven-directed film featuring a Detroit police officer resurrected as an unstoppable cyborg.
Chace Crawford (Gossip Girl) has joined the cast of What To Expect When You're Expecting for director Kirk Jones. He's joining a cast that includes Jennifer Lopez, Cameron Diaz, Rodrigo Santoro, Anna Kendrick, Chris Rock and Elizabeth Banks and he will play a character who reunites with an attractive old flame (Kendrick) after a turf war between he and a rival food truck driver (Rob Huebel).
Harry Potter star Emma Watson may be in line to star in a live-action adaptation of Beauty and the Beast for director Guillermo del Toro who is also working on a live action Pinocchio movie.
Tom Cruise is now confirmed to star in One Shot, an adaptation of the Lee Child best-selling book series in which Jack Reacher (Cruise), a former military policeman-turned-drifter, investigates a case in which a lone sniper murders five victims before being captured. Reacher discovers it's more than a simple open-and-shut case. Christopher McQuarrie (Valkyrie) is set to direct.
After much speculation about what his first return-to-acting vehicle would be – Arnold Schwarzenegger is prepped to be back on the big screen in the action flick, The Last Stand. Schwarzenegger plays a cop who leaves the LAPD in disgrace and takes a job in a sleepy border town. There's little action until an escaped drug kingpin heads toward the town at 200 mph in a specially outfitted car with a hostage and a fierce army of gang member escorts.