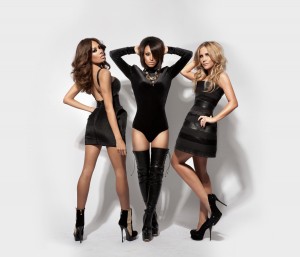 Following the announcement of the band's new signing to a joint-venture deal with Sony's RCA label group, Jade, Heidi & Amelle commented; "We literally can't wait for people to hear our new material. We've enjoyed taking our time in the studio and are excited to be coming back with what we feel is the band's finest material to date". 'Freedom' is an epic track, packed full of the Sugababes signature sass; the girls are back and boy do they mean business! The single is pure-pop unleashed and at its best with an anthemic killer-chorus and moody dub-step twist; the 'babes' are proving they still sit ahead of their contemporaries with yet another genius chart-worthy track oozing effortless musicality.
Sugababes continue to be one of Britain's most exciting and dynamic bands. With hook-laden songs, pure talent and total drama; they constantly surprise, transform and entertain. With over 7 million albums and 3 million singles sold they have also amassed more Top 10 singles than the Spice Girls, All Saints or Destiny's Child, to name a few. With three triple-platinum albums, numerous sold-out tours and number one hits in over 15 countries, they have proven they're a force to be reckoned with.
Sugababes new single 'Freedom' will release through RCA on Monday 5th September.