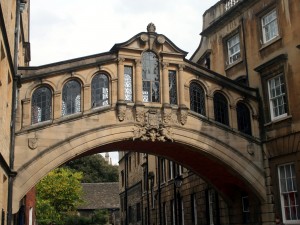 Little fresher Adrian Gillan has a boy bender binge to examine if Oxford really makes the gay grade – as autumn term begins! Ah, the "dreaming spires" and homo-hoards of bright, brainy boy babes who've just left home, hungry for new knowledge. Yet: anyone can say they "went to Oxford" these days!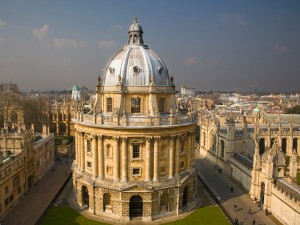 Sights
Queer culture vultures should first defo work up an appetite, browsing the Bodleian Library (www.bodleian.ox.ac.uk), whose collections include Shakespeare's first folio, the poet Shelley's letters and one of the few remaining original impressions of the Gutenberg Bible! Or savour the equally celebrated Ashmolean Museum (www.ashmolean.org), brimming with art and archaeology, from ancient Egypt to the present day; or the Modern Art Museum (www.modernartoxford.org.uk). Stroll through the peaceful Botanic Gardens (www.botanic-garden.ox.ac.uk), boasting Tolkein's favourite tree; or perch under the iconic Bridge of Sighs – a Venetian-style enclosed bridge built as recently as 1914 (younger than its Cambridge namesake) to link the two sides of Hertford College.
Gawp at the stunning architecture of the Natural History Museum, Wren-designed Sheldonian Theatre (affording amazing views from its rooftop cupola) or Radcliffe Camera. Scale the giddy heights of the Carfax Tower. Catch a show at the Oxford Playhouse.
Even a Godless gay can't fail to be impressed by flagship university gem, Christ Church College (www.chch.ox.ac.uk) – dubbed the "Harry Potter College" – with its cathedral, choir, meadow and Old Master-brimming Picture Gallery. And no visit would be complete without escaping the boyish bustle and commandeering a hand-built punt on the water, from Cherwell Boathouse – which also boasts a rather nice riverside restaurant for a spot of tucker – tally-ho! Or try one of the excellent, frequent Oxford River Cruises (www.oxfordrivercruises.com).
Official Guided Walking Tours (Oxford Tourist Information Centre, 15/16 Broad Street
T: 01865 252200; www.visitoxfordandoxfordshire.com) are available at 10.45am and 2pm daily (except Christmas Day).
Get a lively take on local history at Oxford Castle Unlocked (44-46 Oxford Castle; T: 01865 260666; www.oxfordcastleunlocked.co.uk). Grab a sandwich, soup or locally-sourced cake at fab 1071 (5 Oxford Castle; T: 01865 205034) whilst in the area; or, alternatively, in the bustling Covered Market.
Scene
Oxford's greatest asset is undoubtedly its earthy young indigenous population ("town"), plus classy student influx ("gown") – a significant portion of who seem to be either queer, or constantly questioning. From geeky Greek grammar nerd to rowing or rugger scholar: whatever your taste, you'll find it scarce five minutes' walk from the train station.
The newly refurbished Jolly Farmers (20 Paradise Street) attracts gay locals of all genders and ages who merrily prattle away the hours on the balcony and sizeable garden cum summer, chewing queer cud and mulling life and love or reliving a recent Oxford Pride, blow-by-blow.
Probably time to up the ante pre-club now: so make your faint excuses and flit outrageously to The Castle Tavern (24 Paradise Street) mere doors down. Being so buzzing, it is the obvious place to enrol, or even settle any mid-term nerves. This place certainly sorts the men from the boys, all spilling out to pose in the streets whenever nights are warm.
Recently-opened with a new sound system and luxury interior, Plush Lounge (27 Park End Street) is Oxford's only gay-dedicated club, with a cheap student night on Wednesdays; classic pop and rock every 'Flash Back Friday'; plus pop, rock, cheese & live acts every Saturday.
You should also check out Poptarts – "Oxford's Tastiest Gay Night" – on Tuesdays, 10pm-3am, at Baby Love (3 King Edward Street).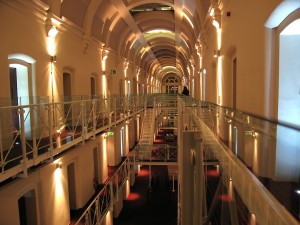 Stay & Eat
These days, the Malmaison Oxford (Oxford Castle, 3 New Road, Oxford OX1 1AY; T: 01865 268 400; www.malmaison-oxford.com) takes no prisoners – but bad boys can still 'go down', guilty as charged! Sentence yourself to a night's stay at Oxford's former jail, now doing time as a luxury boutique hotel (95 rooms and rock'n'roll suites), destination brasserie and hang-out bar for "high-life hoodlums". As the door slams behind you, fear ye overly not: you'll get ample privileges! Blisteringly quick broadband, roll top baths and drench showers for the extra naughty! Plasma TVs and 'steal-me' toiletries for repeat offenders! And as for the suites: redemption awaits, so lock yourself up and throw away the key!
But not before putting in a last request at the bar for a Mint Mojito; followed by simple British classic dishes – uncompromising in quality, locally-sourced and generous in portion – at the 100-seater brasserie. Prison grub has never been so good! The Oxford Mal retains many of the original features of the jail: metal staircases, imposing arches, huge atriums. And all a mere stone's throw away from that Oxford scene!
Visit Oxford by First Great Western trains, with standard advance returns from London Paddington starting at just £8. For times, fares and bookings: www.firstgreatwestern.co.uk
Oxford Pride runs every June: www.oxford-pride.org.uk
For more on what to do in Oxford, and wider Oxfordshire: www.visitoxfordandoxfordshire.com
For more on gay Oxford www.gayoxford.co.uk