QUEER VIENNA: NOW OR NEVER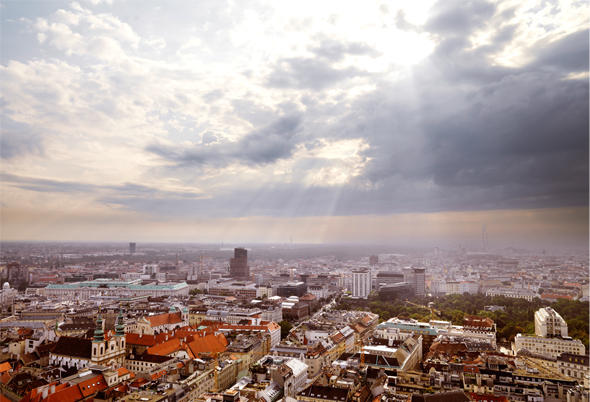 By Adam Lowe
Vienna is a cultural beacon in Europe and often overlooked for places like Venice or Paris. But this Austrian city boasts its own rich heritage and baroque style which is bound to win over even the most discerning of queer travellers.
As the capital, Vienna is undoubtedly the LGBT hub of Austria. As at home, many gay people move from smaller cities and towns to their capital, and as such Vienna is bristling with queer fun.
There are plenty of stylish hotels available, suitable for all budgets, and all are very tolerant of gay guests. The proximity of other European countries, and their accessibility via train or plane, makes Vienna perfect either as a destination or as a stop on any city tour of the continent.
TO EAT
Vienna is full of high quality eateries. Like their continental cousins, they have a café culture famous for its cosiness, or 'Gemütlichkeit'. For more substantial fare, the local restaurants typically blend Austrian, Hungarian, Czech and European influences.
Café Berg is a wonderful venue close to both the university district and the historic city centre. It offers seating inside and out, with a delicious range of plates, sizeable enough to satisfy even the most voracious of appetites. The salmon breakfast was a personal favourite: bagels, cream cheese, smoked salmon, tea or coffee, orange juice and a glass of prosecco. It was the little touches (horseradish and half a boiled egg topped with caviar) which made the meal. The scrambled eggs in truffle-scented oil are also worth a try and complement the salmon excellently.
Café Willendorf is on the ground floor of The Rosa Lila Ville, which is the very heart of the Viennese gay scene. The café offers not only a safe and cosmopolitan environment, but also excellent food, generous portions, a wonderful courtyard for al fresco dining and prices that are more than affordable.
Motto is a bold, stylish and beautiful restaurant with a laidback atmosphere, outstanding menus and great value for money. Its sister restaurant, Halle, is located in the Museums-Quartier.
For the lesbians amongst us, Café Standard is the first port of call. This lesbian-owned restaurant is open to all members of the community and fully wheelchair accessible, and is famous locally for its great food and signature music policy.
Café Berg
Bergasse 8, 9th District
Daily 10am-1am
Tel.: +431 319 57 20
cafe-berg.at
Café Willendorf
Linke Wienzeile 102, 6th District
Thu-Sat 6pm-2am (kitchen closes at midnight)
Sun-Wed 6pm-1am (kitchen closes at 11pm)
Tel.: +431 587 17 89
cafe-willendorf.at
Motto
Schönbrunnerstrasse 30, 5th District
Sun-Thu 6pm-2am
Fri-Sat 6pm-4am
Tel.: +431 587 06 72
motto.at
Café Standard
Margaretenstrasse 63, 5th District
Mon-Fri 8am-10pm
Sat-Sun and bank holidays 11am-10pm
Tel.: +431 581 05 86
TO DRINK
Café BaKul is perfect for those who prefer to head out a little later (or start a little earlier) with opening hours from 9am until 2am. Just around the corner is café Rifugio, which is open from 10am-10pm, and offers a regular calendar of queer events, including the Oktoberfest and late-morning drinks ('Frühschoppen').
Café Savoy
Linke Wienzeile 36, 6th District
Daily 8am-2am
Tel.: 8am-2am
savoy.at
Café BaKul
Margaretenstrasse 58, 5th District
Daily 9am-2am
bakul.at
Café Rifugio
Schönbrunnerstrasse 10, 5th District
Daily 10am-10pm
TO DANCE
Village Bar is located just off a Naschmarkt sidestreet, making it perfect for a follow-up destination to Café Savoy. The crowd is younger, hipper and inevitably more energetic, although the compact venue fills up quite quickly, so it's best to locate some seats and hold onto them!
House, disco and garage are the calling card of the fabulous Heaven Vienna at the Camera Club. Austria's best known drag queen, Miss Candy, leads a frothing madhouse of camp revellers.
Homoriental takes its musical cues from the Far East and targets itself as a multicultural, cosmopolitan crowd. The punters are pretty mixed but the atmosphere is relaxed and friendly.
Goldener Spiegel ('the Golden Mirror') is named for the huge, tacky gold mirrors inside. The wallpaper is entirely made up of pasted-on hunks from porn magazines and, according to the locals, this is the only bar in Vienna where you can get the best sausage on the left and the best rent boys on the right.
HARD ON is the aptly-named fetish party run in a private residence to members only. Others include Stiefelknecht, Eagle and Sling. For the indie kids there's Meat Market.
Village Bar
Stiegengasse 8, 6th District
Daily 8pm-3am
village-bar.at
Heaven Vienna
@ Camera Club
Neubaugasse 2, 7th District
Sat from 10pm
heaven.at
Homoriental
@ WUK
Währinger Strasse 59, 9th District
homoriental.wordpress.com
Hard On
Hamburgerstr. 4, 5th District
Thu from 8pm
Fri-Sat from 10pm
Goldener Spiegel
Linke Wienzeile 46 (Stiegengasse entrance), 6th District
Daily 7pm-2am (kitchen closes at midnight)
Tel.: +431 588 66 08
TO SHOP
Mariahilfer Strasse is the main shopping district. Here you'll find all the highstreet chains, such as H&M and Zara, but also sex shops such as Spartacus XXL-Store (and the nearby Tiberius, just off the highstreet).
Löwenherz bookstore is next door to Café Berg (see above) and offers a truly astonishing array of queer-interest magazines, books and DVDs in a variety of languages.
If you want to splash your cash, Gucci, Louis Vuitton, Prada, Armani and Hugo Boss can all be found on Kärtner Strasse, Graben and Kohlmarkt.
Naschmarkt is an outdoor market perfect for bric-a-brac, but also home to Café Savoy. Just up the road is the Klimt exhibition at the Secession gallery, which sells prints, T-shirts and even satchels emblazoned with Klimt's eye-catching spangly style.
TO RELAX
Kaiserbründl is the first stop-off for any fan of saunas. This gloriously decorated place looks like the inside of a palace. You're sure to unwind in style.
Younger crowds often visit Apollo City Sauna, Sauna Frisco and Sportsauna, where you can safely switch off your Grindr and still be guaranteed a good time.
Kaiserbründl
Weihburggasse 18, 1st District
Daily 2pm-midnight
Fri-Sat and nights before public holidays 2pm-2am
Apollo City Sauna
Wimbergergasse 34, 7th District
Daily 2pm-2am
GENERAL INFORMATION
Gay visitors' information:
Rosa Lila Villa
Linke Wienzeile 102, 6th District
Tel.: +431 585 43 43
villa.at
Gay tours:
Qwien Centre
Grosse Neugasse 29, 4th District
Tel.: +431 966 01 01
qwien.at
Useful websites:
gayboy.at
gaynet.at
rainbow.at
gaywien.at
facebook.com/gayfriendlyvienna
ACKNOWLEDGEMENTS:
Thanks go to Astrid and colleagues at Vienna Tourist Board, our guide Alexa Brauner, and also to Mary Stuart-Miller at The Creative Connection UK.
Images courtesy of viennaphoto.com