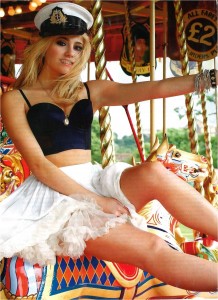 Manchester Pride has just confirmed that UK pop sensation Pixie Lott will be headlining its 'Big Weekend' later this year

Pixie shot to fame in 2009 when her debut single 'Mama Do (Uh Oh, Uh Oh)' hit the number one spot in the UK charts. Her second effort, 'Boys and Girls', did the exact same thing. Since, Pixie Lott has made various film and television appearances, enjoyed success with triple platinum selling album 'Turn It Up' and has watched three follow up singles make it into the UK top twenty. Pixie Lott more recently has also been a part of TV hit 'The X Factor' – as a guest member of the infamous judging panel.
Alongside Pixie will be Aussie 'trolley-dolly' Pam Ann; on the back of their recent Eurovision success, UK boy band Blue and, on the brink of launching their eighth studio album, the most successful female act of the 21st century the Sugababes.
Other acts that will be featuring over the 'Big Weekend' include new girl band Soundgirl, fresh from supporting Justin Bieber on his UK tour, the fantastic Patrick Wolf and Manchester favourites Heather Peace and Bruno Langley.
There will be a mixture of acts for all at this year's event, with music from the likes of Cosmo Jarvis, Santiago Street Machine, Twenty Twenty, Toyah Wilcox, Denise Black and the Loose Screw, Rowetta, Hazel Deal, Bucks Fizz, Horse, Angie Brown, Rubika and Zukas Fontaine.
Manchester Pride's Big Weekend takes place from Friday 26 – Monday 29 August, and tickets are now on sale. For more information, visit: www.manchesterpride.com