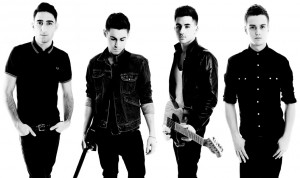 They've already performed in front of 40,000 people, been offered industry advice by Robbie Williams himself, played the 02 Arena – and they've just completed a national tour with Olly Murs – a tour that completely sold out. So, is this enough of a reason why should you take notice of The Kixx? Here, Ryan Houston chats to the band about their journey into the music industry.
The Kixx unique style showcases their musicality and creativity as a band that share vocal duties on different tracks and have all the hallmarks of a classic British pop band. Having all grown up close to each other in Reading David, Robbie, Jack and Dave aren't some superficial pop-up band but have spent years growing as a group and perfecting their craft.
What first got you interested in the music industry?
We grew up listening to the music that our parents were into at the time – artists such as The Beatles, Buddy Holly and Johnny Cash and it was those that inspired us to pick up musical instruments for the first time and make some noise. It kind of developed from there.
Where can readers find you this year?
We've got a really busy summer planned with some big shows lined up so keep checking out our website for tour dates. It's great to be staying busy, we want to show fans that we have a lot more to give and we're really excited about embarking on a new tour.
What's next for the band?
A second and third single, followed by an album at the end of this year. We'll be playing loads and loads of shows too. It's really important for us to keep the momentum up that we have gained from this tour. We've received so much positive feedback from the single 'Already Gone', so we really want to make sure that the album is perfect and fans want more from us.
What advice would you give to readers who want to be the next big thing?
When we first started producing our EP we sold the result out of the back of a car. We've actually got better at everything by literally going out there and doing it ourselves. We didn't have any lessons, but we learnt as we played schools, pubs and clubs. We went from playing to 50 people in a pub, to playing Manchester MEN. Anything is possible, just set your mind to it.
The Kixx debut single, 'Already Gone' is out now and available from The Kixxs Official Website www.thekixxband.com