Johan's Blog – August 2011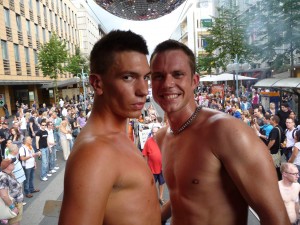 I love the "Pride" season. After all, it means it's summer – and that means cute guys and sex!
Over the last few weeks I've been to a lot of "Prides" – Vienna, Munich, Hamburg, Prague, Berlin, Amsterdam and Cologne to name but a few. Why, even Prague has had its very first gay pride, featuring a parade, a few trucks and a party! Needless to say, attending all these events means showing my face (and more!) at either the pre-parties the day before the main event or at the main celebrations at the parade evening itself. Either way, it's all fabulous fun!
A "Pride" (or CSD as it's called in Germany) basically means being just what you want to be, or indeed just who you are! Nobody cares and quite simply everything is allowed. Indeed, I think this is the only day of the year when you can walk totally naked down the streets holding another naked guy on a dog-leash… on his knees. I've actually seen this is Vienna and the police officers didn't seem to mind at all. In fact, some of them were even posing for photos with these guys using their mobile phones. Well, at least I think they were policemen, rather than just some random guys with a cop fetish!
It's quite unbelievable as to how many gay people are around you at these events – but of course we gays are a massive crowd en masse! Around 1.5 million people attended the gay parade and open air street parties in Berlin this year – which begs the question, why don't we have the same rights as straight people yet? Indeed, why do we still have to go on fighting for them? Let's be honest, if ALL gay people stood up for their rights at the same time there's no doubt that society would be shocked at the amount of people involved and the degree of power that us gays actually have when we stand together as one.
Talking about Berlin, this particular pride is always very special. After all, it's quite literally pure sex! After the parade I had to walk back to my hotel, so I decided to take a short-cut through one of the parks, where there'd been gay activity everywhere that day! It was only five in the afternoon and still broad daylight, but it was clear that there'd been sucking, pissing, fucking and whole lot more going on there – not only in the bushes, but also out in open on the grass. Such antics are surely only possible in Berlin, where the mayor is openly gay and always rides on the first parade truck, and where the parade ends right in front of the Brandenburg Gate, surely the most important historical building in the whole of Germany. Just imagine if London Pride concluded on the gardens of Buckingham Palace – hey, Lizzie would not be amused for one second!
Actually, the bookings we have for parties during the pride seasons are unquestionably more hardcore than is usually the case – even in clubs where we only do go-go dancing and who don't ask for an oral or anal show. No doubt about it, everything is much more energetic, sexy and horny at this time of year!
After hours on a pride truck – and having taken a short nap afterwards – I'm just happy to start one of our erotic shows in the evening. After all, I've been surrounded by some of the hottest and cutest guys imaginable all day, and have danced half-naked and consumed lots of alcohol whilst lots of these boys enjoy blowjobs or jerk off in a corner. No wonder that I'm feeling as horny as fuck by this point – I'm a guy in my mid-twenties whose hormones and sexual appetite are at their peak! I need sex pretty much every day – and never more so than after having been aroused for hours on end by a hot, sexually-charged crowd! It wouldn't be quite so bad if I'd been able to relieve myself with a wank at some point, but of course I always have to save myself for whatever show I'm performing in later on.
Still, I always really enjoy the hardcore shows we put on during pride season – be they with some cute and sexy partners or just alone with my lovely flashjack. In most cases I simply concentrate on whoever I'm performing with and/or my own aching cock and shut myself off from the crowd around me. Why, sometimes I even forget that I'm in a club at all! Instead, I just focus on the sex – and enjoy every single moment of it!
Occasionally it happens that the show continues on backstage. Indeed, in some of the bigger venues we often have a nice backstage room which we share with the sexy go-go dancers. Here the fun continues, with the dancers hot from their appearances and we models still highly aroused from our shows. What a perfect combination! Unfortunately, most club managers hate this kind of extra activity because they always delay the go-go dancing schedule. The boys are simply too busy with other things to watch the clock!
I wish you a great, hot and horny pride season and hope to see you all soon!
All the best
Johan
For booking requests of the STAXUS models please go to StaxusOnTour.com
Remember, the STAXUS models offer all different kind of entertainment opportunities, from autograph signings through to both softcore and hardcore shows.