'Fur Coats and French Knickers!'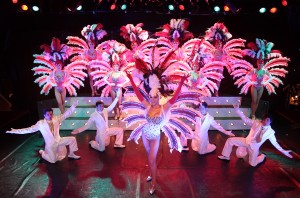 Adorned in fur and unlike the famous saying they definitely have something underneath…..French knickers. The Lady Boys Of Bangkok are 16 of the world's most beautiful show-girls (who just happen to be men) The fur will be flying (all man-made, of course) and the glamour switched on to full-blast as this irresistible blend of comedy, cabaret and raunchy capers takes to the specially erected Sabai Pavilion in Leeds. Marvel at the perfect makeup, stunning costumes and fabulous choreography with added surprises with some of the planet's most famous divas getting the full Ladyboys' treatment – including saucy poppets, Lady Gaga and Katy Perry.
Get a taste of Bangkok with a fresh Thai food menu from resident Master Chef, Miss Khanittha Pomngarm who will be offering a menu of mouth watering authentic dishes at very reasonable prices. There is also a fully stocked bar in the Pavilion and even the opportunity for all audience members to have a picture with the stars of the show.
So prepare for a night to remember, an opportunity to be whisked to Bangkok and back, what are you waiting for, be a part of 'Fur Coats And French Knickers!'
The Sabai Pavilion, Millennium Square, Leeds, LS2 3AD
Fri 14TH October – Sat 29th October