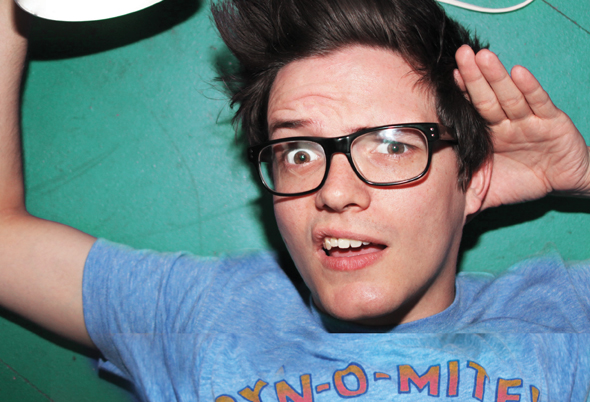 The Edinburgh Fringe festival has become the 'bootcamp' for all aspiring comedians. Some go on and die a death, while others are feted and get their own TV shows. We at Bent would like to introduce a star of the future – David Morgan is already wowing audiences throughout the country with captivating tales of dyslexic football camps, musical theatre, homophobes, jazz hands, and his most tantalizing talent: being gay (and he is awesome at being gay!).
Were you the archetypal class clown?
Sort of, it was a defence. I made myself funny so that I became less of a target as I appear to be predisposed to being bullied when it wasn't for being gay I was being taunted for being a boffin.
Why is Edinburgh such a draw for comedians… and isn't it expensive to do a show there?
It's a right of passage. The ability to do something of substance with a narrative is very rare on the circuit so the opportunity to do it every day for a month is fantastic. Also, as we're all up and down the country every day it's hard to socialise with your colleagues so Edinburgh is like our comedians' convention. Yes, it is expensive, very, but it's also a showcase and hopefully things will spiral off from a successful Fringe run.
I see you are appearing at Bristol Pride… will we see you at any others and what's your take on this annual excuse to run around in your underpants?
Yes I'm lucky enough to be performing during Pride Week, I love Bristol and can't wait to entertain the gays! Well, I try to go to prides but, working most weekends makes it hard. I missed Birmingham Pride (my home and first pride) for the first time in 10 years because of gigs, there's nothing like topless boys drinking in the rain. Pride is important. It's great to be able to kiss your partner in a park without having to look over your shoulder. There's still a lot of work to do before we don't need to remind people we're equal any more.
Are you a tweeter?
Oh god yes, Obsessively, I'm @thisisdavid. Follow me!
Do you think it helps being a geek to tweet?
I don't think so any more. There's a steep learning curve but once you've got how it works it's amazing.
They say these days that comedy is the new Rock n Roll with comics playing 10,000 seat arenas, would that work with your act?
I would LOVE to do an arena spectacular. I think if you're going to do such massive shows it needs to be more than just me and a microphone. I'd do the full Kylie I think, fireworks and fountains. I'd be flown in.
Recent reports to the BBC and in the Mail (all hail the Mail) suggest that there are too many gays on TV… do you think we have over saturated the market?
It's ridiculous. No we haven't. If the people are talented it doesn't matter what their sexuality is.
Where has been your worst and best audience reaction?
Worst was Broadstairs in Kent during Christmas party season. They were not fans of gays.
Best was the first showing of my hour, Triple Threat, at the Crumblin' Cookie during the Leicester Comedy Festival this year. It got nominated for an award so it must have been alright!
Who do you like to watch?
Oh so, so many, mainly people who are very different from my style. Frisky and Mannish are amazing, Tony Law is wild and brilliant, Tim Vine makes my cheeks hurt with his silliness and Andy Zaltzman is so clever it makes me jealous
And a question we ask all our interviewees… what are your favourite undies?
Short answer, I'm an Aussiebum boy. The long answer involves an hour presentation and I can't find my slides.
David Morgan will be performing his show 'Triple Threat' Just the Tonic's The Tron from 4th – 28th August throughout the Edinburgh Festival Fringe.
For tickets and more information see www.edfringe.com