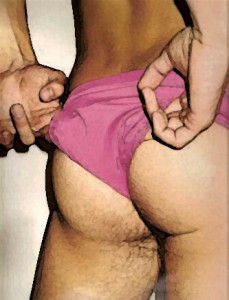 By Emeness
I'm a pants nutter.
For as long as he can remember I've just loved my underwear. As a child I'd spend most of my time wondering about the house in just my little cartoon-character briefs.
My mum told me that ever since I was a tot I'd always pulled off my clothes and shoes and paraded around almost naked. Firstly it was in a nappy, then trainer pants, then my briefs… for some reason I was only comfortable in my underwear. According to her, it didn't matter where I was or who was visiting, it was usually just me and my undies. Apparently I was as good as gold once I'd shuffled out of all my other clothing and always seemed perfectly happy wearing only that tiny piece of material covering my 'bits and pieces' (as mum called them). When as a toddler, and we were out shopping, she often had to struggle to get me to stay in 'going out' clothes and if I ran off, she always knew where to find me; standing near the area that sold underwear. Male or female, as a child it was all the same to me, I would just hang around and look at the items on show until mum or some surprised other customer would arrive and find a trouser-less young boy stood gawping at the display.
As a kid my mother's mail-order catalogue proved a source of inspiration. The underwear page had kept my young eyes glued and I used to want to dress up (if that's the correct term) in the styles I saw on those colourful pages. The models in their vest and pants poses had, even from an early age, made me like the manly image and stirred the pubescent cock resting in my cotton underwear. To me, seeing the guys standing around in just their tight fitting Jockeys was perfectly normal because that's how I liked to be. To be honest I didn't mind some of the pictures of the lady models either. I wasn't keen on the knee-length styles but the pretty brief ones I liked. The silky pastel colours, the flowery nylon, the lace trim… all these, I have to say, I appreciated and liked the idea of wearing as much as the white or blue cotton y-fronts that turned my youthful imagination on so much.
I begged mum to buy the items I'd seen in her catalogue but as the family was struggling financially we'd take a trip to the local market for her to buy her growing lad all his schoolboy needs from one of the cheap stalls. Usually it was just a few pence for a pair of briefs…. although sometimes she bought several pairs of multi-coloured boy's cotton trunks or briefs for around £2. The colours and designs were often awful but I realised that I could obtain masses of undies for the same price that one pair in the catalogue cost. That schoolboy revelation has stayed with me to this day and although I enjoy and appreciate all the tight, gleaming, sexy, shiny, Lycra, branded styles… I refuse to pay more than a couple of quid for any pants.
Now as a twenty-five year old, things have changed… but very little in my desire for underwear. Although I wear trousers to work, the minute I get back to my flat, off they come and the rest of the time I pad around, make my meals, watch TV and sleep in nothing but my pants. The chest of drawers in the bedroom is weighed under by all the styles of cheap pants bought at the market. Boxers, trunks, briefs, skimpy thongs, nylon flowery knickers, lacy panties, rough cotton pants, polyester shorts… if they haven't cost much over £2… they are usually added to the collection. I've got more colours and styles than anyone else I knew and often spend night after night playing around in them… either alone or with some guy picked up at a bar, in a cottage or off the net.
I'm OK looking so hopefully it's no surprise I do well. Everything's in the right place and I don't suppose the horny underwear pics that adorn my profile on the net do any harm at all… my sex life is buzzing. All the guys who visit the flat are stripped down to their underwear first before anything else happens. Once I've found out what they are wearing under their jeans my interest soars… mainly because I want to get them out of what they have on… and into a style from my own collection that I think will suit them. Yes, I've become a sort of Gok Wan of underwear – the number of times I've talked some horny, hairy hulk out of his pristine white CKs and into a pair of lacy women's nylon knickers is quite unbelievable. Not being modest here but my own substantial cock is usually permanently hard at this point and forms a terrific outline in whatever style I've got on. Even my cheap drab, baggy paisley nylon y-fronts, which for some reason I've developed a passion for, seem to come alive (and well tented) when I'm in shagging mode. Very rarely do visitors refuse to join in the underwear fun… in fact, the sessions are always so hot that more often than not a few like to swap what they've arrived in (expensive or not) and go home in their cum-filled, stinky 'cheapo' pants. A hairy arse framed by a piece of sheer nylon or a throbbing cock trapped inside a satin g-string desperate for escape… I'm sure I'm not alone in thinking it is the best of sights. Visitors often seem to appreciate what this first ever taste of pant pleasure gives them. Spurting into and over the fabric and not having to worry about ruining an expensive £20+ pair of designer pants helps lose silly inhibition and eases guys into just having a great time… creaming, screaming, dreaming, humping, pumping, laughing and loving in their newly found cheap pant heaven.