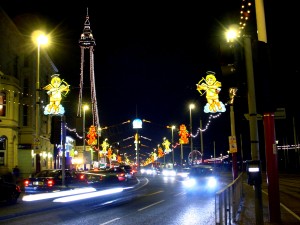 You can always tell that autumn isn't far away when Blackpool announce the' Big Turn On' of their world famous Illuminations. This year, visitBlackpool announced that TV's hottest funny man, Mr Keith Lemon will do the honours backed by a host of star guests and celebrities.
This North-west coast's party of the year includes multi-million selling artists Scouting For Girls and the queen of 'UK Soul,' Miss Beverley Knight along with former Savage Garden frontman Darren Hayes and X-Factor 'Man Band,' The Reason 4. These are just the latest names added to an already extensive line-up; James Morrison, Pixie Lott, Joe McElderry, Olly Murs, Paul Carrack, Wonderland and The Overtones for what promises to be a fantastic night to remember.
Keith said "I've dreamed of turning t' Blackpool Lights on ever since I could reach the light switch in me mam's front room. Me teacher at school said I was fick. I might be, but I know how to turn a light switch on and now that knowledge is gonna come in handy." He concluded in his own inimitable way; "Can't wait to come to Blackpool and turn you all on! Oooosh! Sha-ting!"
The show is by ticket only but huge screens will also broadcast the event to the huge crowd expected to make an appearance over the 2nd- 4th September celebration.
The lights will shine from 2nd September thru 6th November.
https://mag.bent.com/best-dating-sites-edmonton/
Photos: ITV & Mark S Jobling