A little more summer heat with Frixion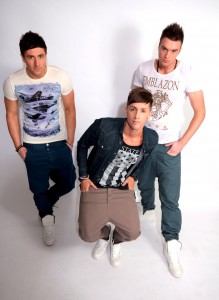 Formed four years ago when college buddies Neil Painter and David Stanton decided to start up a new unique boy band with an RnB edge, Frixion became a working trio after they held open auditions and found Johnny Wright. For the past couple of years they have toured with the likes of Jessie J, Tinie Tempah and Titchy Stryder, amongst others, as well as being announced as one of N-DUBZ official support acts for their 'Uncle B' UK Tour.
The new single 'Under the Influence' is excellent, how did it come about and who came up with the video?
Neil: basically we were in London recording the album and our producer Hypertone played us the demo…
David: …we fell in love with it instantly and knew we could add our own swing to it!
Johnny: The video was actually directed by a guy called Sesan. He's done work for N-Dubz in the past and has just been working on Kanye West's latest video in Africa!
You're just about to start another tour but what has been the highlight of your career so far?
Neil: We have so many! Me personally was for Dappy to come up to us during our N-Dubz tour and say that watching us on stage makes him want to take up singing lessons! We got a good bond with them during that time. Really good experience!
David: For me it was when we did our gigs with Jessie J, she said we were the best vocal band around, which coming from her, meant a lot! So happy she finally got her big break this year!
Johnny: Mine has to be just meeting people on the road in general. Having their songs blasting on your iPod one day, then talking to them in the Green Room the next! It's quite surreal! We did a gig with McFly last year and Harry came up to me and introduced himself. There was a little teenager in me wanting to go 'I KNOW WHO YOU ARE!' But I kept my cool and just said 'Hey mate, I'm Johnny' haha
What is the one thing, besides a van, do you absolutely need to make touring bearable?
Neil: This is gonna sound really soppy, but each other! We are only on stage for around 30-40 minutes at a time, the rest of our tour is spent in the van, in hotel rooms or out and about. So it's good we've got each other to keep company!
David: Yea, we see a lot of solo artists on the road and it's ok if you've got your friends with you, but we're grateful to have each other all the time!
Johnny: Also earphones for when they start to become annoying. Jokes!
You work hard and gig around to show you're not some manufactured, thrown together, band so how do you feel about these bands directly off 'talent' shows that haven't put in the work but walk of with a contract?
Neil: It depends on the artist really. It can be frustrating when you've been in the game for as long as we have and overnight another group comes along. But at the same time reality shows do produce a lot of genuine talent.
David: Every year when X Factor comes around, a lot of our friends say 'Ohh you should of gone for it! You would have won it!' But even some of the winners aren't guaranteed success. We'd much rather graft the hd way and get recognition for it!
Johnny: The good thing with it is there aren't any other groups out there doing what we do at the moment. And even if there was, it's like N-Dubz, whether people like our music or not, they respect that we've been grafting for so long and worked so hard for it. You don't get that with many 'reality' show acts.
You've toured with some other great acts, who did you enjoy most and who, if anyone, would you love to tour with?
Neil: Jessie J for me, we did it in her early days so would be wicked to see her again!
David: N-Dubz, their taking a break at the moment but would be wicked to reunite with them.
Johnny: We've done a few shows with The Wanted and they are sound! When we first started doing gigs, there were no boy bands around, just us and JLS, before they went on The X Factor. Since then there has been a crazy amount of boy bands popping up and we've done a lot of gigs with them over the years, but The Wanted by far have been the nicest.
If you hadn't got the band together, what other careers did you have planned?
Neil: I'd probably want to go into fashion.
David: I would probably set up my own business. Or even go into the army, I've always been fascinated with that.
Johnny: I think whatever I'd be doing, it'd involve entertainment. TV presenting, acting or even doing theatre productions. It's my passion so I don't think I'd want to do anything else!
When you get the time, what do you do to relax? (Sport or social)
Neil: I like to just chill in my home, watch TV and spend quality time with my friends
David: I enjoy going to the gym, I like to keep in shape when we're not on the road.
Johnny: I just like to pop home to catch up with my family and friends, then whack my American Dad boxset on and chill out really!
Do you have a favourite club or bar where you like to spend time?
Neil: Really we enjoy going all over the place, from going to the Arcadian to heading down Broad St
David: Cuban Exchange and Indi Bar in Wolverhampton are good!
Johnny: Yates is always a fun atmosphere wherever you are in the country, but my ultimate bar is Babylon! It's a 90's bar and to me that is just the best era for music. So you might catch me grooving to a bit of Hanson if you're ever there!!
Are we going to see you at many Pride events this year?
Neil: Yea… we've already done Blackpool and Birmingham…
David: and Brighton Pride!
Johnny: We always enjoy doing Pride events, the atmosphere is incredible and everyone is just there to have a good time.
You seem to have got yourself quite a strong gay following, how do you feel about that?
Neil: It's wicked, whenever we go to gay clubs we always get spotted, which is cool.
David: We love doing gay nightclubs because they are always up for a laugh and there's never any trouble.
Johnny: We get a lot of supportive messages from our gay fans on Facebook, we've had to set up more than one profile so we can accept everybody and one of my FB profiles have more guys than girls on it! They're very supportive.
And for all those gay fans… What is your favourite style and brand of underwear?
Neil: Diesel!
David: Emporio Armani
Johnny: Calvin Klein
Under the Influence out 12th September