The Heat is On – Fire Island Pines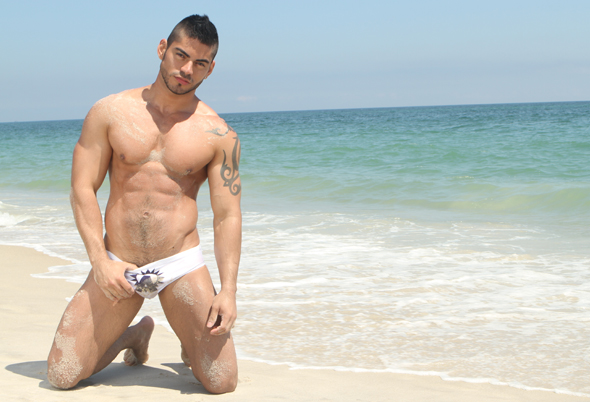 By Max Jiminez
Every summer, thousands of men from around the globe flock to the sun drenched beaches of Fire Island Pines for their three-day round-the-clock party, Ascension. Since its premiere six years ago, Ascension has grown from a single event on the shore into the island's most anticipated and busiest weekend.
As if to emphasize the heat of its sixth season, spicy Latino Jorge Lopez was chosen as the face of Ascension. It's the first time a non-Caucasian model has been chosen to represent the island. Is this another sign of the browning of Gay-merica?
Congratulations on being the island's first Latino campaign model!
Thanks so much. I wasn't really aware that I was the first Latino model until recently. I was so honored to even be a part of the shoot. To be the face of the campaign is amazing.
How did the shoot come about?
I was initially put in contact with the team behind Fire Island's Ascension Party through a photographer I regularly work with.
Why do you think Fire Island Ascension chose to take a different direction this summer with their campaign?
Honestly, I think I may have been chosen because my dark features help me to stand out more in the group pictures. I don't think it was a decision to make the campaign more ethnic.
In your experience, what do you believe are the best assets of a Latino man?
Is that a trick question? It all depends. We are diverse so our assets are varied. There are the obvious ones: ass, package and the like. I do think the way many Latino men handle themselves is sexy. We tend to be confident and masculine.
What attracts guys to you?
I am not quite sure what is it that I do, but so far I have been very lucky.
Do Latinos face discrimination within the gay community?
Maybe I have been lucky, but I have yet to encounter real discrimination in the community. I also think it is up to each of us to represent our individual communities in the best light possible. I mean, if I show up one day with a Fabio ponytail and a chacha open button down shirt, then I would be asking for ridicule, right?
How do you feel about guys affectionately calling you 'papi'?
Funny you ask. I never like anyone calling me papi. I see it as an insult; as a way of categorizing me into a specific ethnic box. It wasn't until recently that I allowed one guy I was seeing to call me 'papo' and to be honest with you, I liked it. I guess it all depends on who it comes from and when it is used. There is something sexy when you hear, "harder papo" (laughs).
Latinos are known for being fiery in the bed, but also fiery in fights.  Is that you?
Oh Lord! Did my ex-boyfriend put you up to this? Yes, yes, yes! That is totally true. The same energy that I put in bed, I also put in loving that special person, but when I get hurt I hurt a lot and it comes out when fighting. We Latinos wear our heart on our sleeves and all emotions are intense. I know I make up for any fiery fights in bed and truly loving.
Are you single?
Very.
What kind of guy are you attracted to?
I am attracted to many different types. All of my previous boyfriends have been very different in looks and personalities. One physical characteristic is big: big hearts and bigger well, you know what I mean. But seriously, a guy has to be masculine and muscular to get my attention.
Will this be your first time at Fire Island's Ascension party?
No, I have been going to the Ascension parties for years. I always have lots of fun at them. This year will be the first one I go to being single! Let's see what happens. As long as there are no cameras on me, I'll be fine!.
For those that haven't been, can you describe Fire Island Pines?
Oh boy, the parties on the island are really what you want to make of them. They have very chilling pool side parties during the days, crazy hot muscle hunk pool parties later in the days and bayside parties at midday. Some of the best parties start at night and go until the wee hours of the morning. It is also important to mention that there are many cultural activities going on all week so get informed and take part in as many activities as you can.
What should guys pack for their Fire Island weekend?
A good number of hot tight bathing suits, two pair of sunglasses, lube, condoms… you know the essentials.
Ascension New York in Fire Island Pines takes place19th-21st August