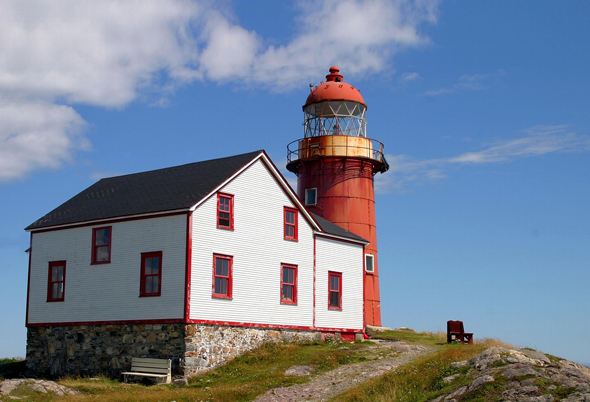 Adrian Gillan samples British colonial history, plus stunning wildlife and scenery, on the rugged East Canadian Atlantic coast of Newfoundland – scarce 4 hours from London by plane!
The island of Newfoundland on Canada's East coast – like closer Gibraltar, dubbed "The Rock", on account of its craggy terrain – boasts some of the Atlantic's most dramatic and attractive shoreline; a wealth of notably British colonial history; and magnificent maritime wildlife. Magically combining remoteness with sincere friendliness, ½-million "Newfies" (Newfoundlanders), are scarce swollen in number by a mere smattering of Labradorians. The main "city" of St. John's has a core central population of around 100,000, plus a nice little, albeit tad mixed, gay scene.
Native Indians had, naturally, dwelled in the region for millennia. The first 'Europeans' to land here – and indeed on the North American continent, period – were Vikings, at now-named L'Anse Aux Meadows, high on the Northern Peninsula, in 1003AD, making a clear settlement, but seemingly not staying long. Shortly after Columbus pioneered a more permanent route with Europe in 1492AD, Italian explorer Giovanni Cabotto, working under English patronage (as plain 'John Cabot'), claimed the region for England in 1497 – thereby in fact making it the first English colony anywhere in the world!
Despite ensuing centuries of imperial disputes – mainly between England, France and Spain – Newfoundland remained a British Colony until Confederation within a by-then-independent Canada, in 1949, narrowly voting to avoid independence itself. It subsequently renamed, as 'Newfoundland & Labrador', in 2002 – in more overt recognition of Labrador's own distinctive history and culture. The province's economy has, mercifully, happily switched from fast-depleted cod stocks to oil.
It certainly makes sense to fly Air Canada, which runs the only direct Heathrow – St. John's route, throughout the summer, until 27 Sept 2011 – the journey naturally being possible via other main Canadian cities all-year-round. The flight is only a fraction over 4 hours, at least with the Jet Stream behind you, with time difference being just 3½ hrs behind GMT. Merits even a mere long-weekender!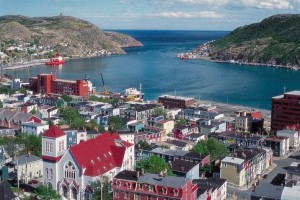 ST. JOHN'S & CAPE SPEAR
Overlooking St. John's historic natural harbour, the Sheraton Hotel Newfoundland (115 Cavendish Square, St. John's;), with its spa, bar and eatery, is near all scene and sights.
Explore downtown St. John's, including the oldest street in North America, Water Street, with its myriad boutiques, bistros and colourful wooden houses, all sloping down towards the harbour.
Eat at little Chinched, with its fresh, healthy, locally-sourced creative fayre – featuring anything from stinging nettles to exotic berries – plus equally fresh, charming young male staff; or at recently-opened Simplicity (223 Duckworth; T: +1 709 722 2522) with its youthful service and tasty specials.
Learn about Newfoundland's, nay our whole planet's, awesome geological history at the lively Johnson Geo Centre (175 Signal Hill Road; – including the true story behind the nearby sinking of the Titanic, including how locals spread word about the disaster and coordinated the rescue.
Then, for great views back down across the town, and out over ocean and bay, visit nearby Signal Hill (National Historic Site), including Cabot Tower, maybe hiking a portion of the North Head Trail which takes you along the surrounding rugged coastline. Note: Marconi received the first transatlantic radio signal on Signal Hill in 1901!
Dominating the town's skyline, as its newly pulsing cultural heart, tour The Rooms Provincial Museum, Archives & Art Gallery (9 Bonaventure Avenue;) – a wonderful mix of old and new, in both design and content – perhaps taking in lunch at The Rooms Café for arguably the best views out over the whole city and harbour. Try the tangy caribou bolognese!
Boasting – allegedly – one of the highest densities of pubs anywhere in the world, an evening out on raucous, nay infamous, George Street is a must – renowned for its live, oft-Irish-flavoured music, an almost surreal kaleidoscope of bar-hopping gigs and melodious medleys!
You'll find anywhere here gay-friendly, but for the highest gay quotient, head for Club V (14 George Street; T: +1 709 738 1113); then late-night joint, Liquid Ice (186B Water Street, above Erin's Pub).
Escape the bustle of downtown St. John's for a couple of hours and make the 20 minute drive south to Cape Spear – the most easterly point in North America, with its dramatic, doubtless-haunted 1836 lighthouse – keeping an eye out for icebergs (May-July) and whales (June-Sept) in season.
Whilst out that way, also take in the picturesque little fishing cove that is Petty Harbour.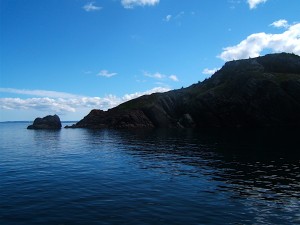 AVALON PENINSULA: BACCALIEU TRAIL & IRISH LOOP
If you're only in the area for a few days, after St. John's, dodge the odd stray moose and pick up a hire car (Newfoundland has no trains) to explore the wider Avalon Peninsula – notably the Baccalieu Trail due north west, taking in historic Dildo, Heart's Content, Cupids and Brigus; pus the Irish Loop due south, notably Bay Bulls and Ferryland.
Drive 1½ hours west out of St. John's to the aptly and joyously-named little town of DILDO, located on the Baccalieu Trail, perched on Trinity Bay.
Settle into the historic, late 19th Century, 5-star George House Property and adjacent Inn on the Bay, both run by the gorgeous gay couple that are Dale and Todd whose passion for hospitality and cuisine colours everything they do. After a slow jacuzzi, attended by no less than Bulgari bath products, sip a G&T in one of several lounges whilst browsing your hosts' best-selling cook book before gorging on their latest crab creation, gazing out at a pod of frisking dolphins in the bay below! Heaven!
Enjoy lunch at the nearby harbour-view Dildo Dory Grill before exploring the historic community of Dildo itself, and surrounding area. Visit the local Whaling & Sealing Museum, or take an aquatic zodiac tour, or a coastal hike, with Captain Dildo Expedition Tours.
North of Dildo, explore the picturesque coastal Baccalieu Trail, not least HEART'S CONTENT, featuring the Heart's Content Cable Station, to learn how the transatlantic telegraph cable advanced modern communications, from the mid-19th to the mid-20th Century.
Don't miss the historic community of CUPIDS (originally 'Cupers Cove') – the first 'planned settlement' in this New Founde Land, following John Guy's arrival here in 1610 – which has recently celebrated its 400th anniversary. Visit the excellent Cupids Legacy Centre, plus the nearby archaeological dig – surely worthy of 'national', not just 'provincial', heritage status! Enjoy lunch at the lofty Cupids Haven B&B & Tea Room.
Drive a few minutes down the road to cutsie BRIGUS, whose history dates back to around 1612, when said John Guy sold half the harbour to the Spracklin family. Visit Hawthorn Cottage (National Historic Site) – birthplace of arctic explorer, Bob Bartlett; plus the nearby reconstructed Stone Barn Museum.
Also explore the coastal Irish Loop in the southern part of the Avalon Peninsula, taking in BAY BULLS – home to O'Brien's Whale & Bird Tours, offering a 2-hour sea adventure around the Witless Bay Ecological Reserve, boasting puffins, whales and icebergs in season.
A further ½-hour drive south, don't miss FERRYLAND and the grassy hills of the 1621-founded Colony of Avalon archaeological dig, followed by a leisurely hike along the footpaths to the Ferryland Lighthouse, with its well-nigh institutional picnics for a deliciously local 'hamper' lunch, amidst stunning scenery, including the 1870 lighthouse itself.
Air Canada offers a daily direct service to St John's in Newfoundland from London Heathrow throughout the summer months, 27 May to 27 September 2011. Prices start at £707.63 return, including taxes. The route uses an Airbus A319 featuring Economy Class and Executive Class seating. There is a personal touch-screen TV with hundreds of hours of top-rated entertainment at every seat, in-seat laptop power and USB port for game controllers. Executive Class offers added comfort with guaranteed aisle or window seat, and includes Maple Leaf Lounge access plus other priority services such as extra baggage allowance, priority boarding, premium wines, spirits and cuisine plus additional Air Canada Status Miles. Air Canada has won several awards over the last year for the quality of its services, and has more daily flights to Canada than any other airline in the UK.