Ten things about Nicolas Cage…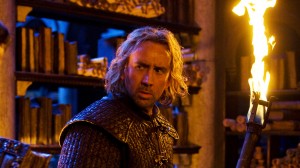 1) Nicolas changed his surname from Coppola to Cage. The inspiration behind this name change arose from his love for Comic Books-notably the character 'Luke Cage'
2) Cage proposed to his first wife Partricia Arquette the day after meeting her.
3) In one of his earlier movies, 'Vampire's Kiss', Cage amended the script so that his character ate a live cockroach in place of a raw egg. He ate 3 cockroaches for each take on the shot.
4) Cage became the youngest ever winner of the Academy Award for 'Best Actor' for his role in Leaving Las Vegas
5) Nicolas Cage suffers from vertigo.
6) Cage secured movie star Johnny Depp his first acting job.
7) Nicolas Cage has a Ghost Rider tattoo that had to be covered up for the movie, Ghost Rider (2007)
8) Nicolas is half German, half Italian.
9) Nicolas trains in Brazilian Jiu-Jitsu under Royce Gracie.
10) Nicolas Cage has donated $2,7 million to establish a fund for former child soldiers.
---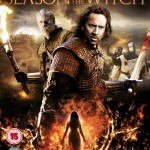 Season of the Witch
From one danger zone to another, a knight (Nicolas Cage) returning from the Crusades and his comrade (Ron Perlman) are thrust on a perilous and action-filled journey that will push them to their limits. After years of fighting battles in God's name and growing more and more disillusioned with their quest, they now have to prove themselves all over again or be forever cast as deserters. As they uncover the dark secret of a cursed girl and engage in battle with a mighty and sinister force, the fate of the world rests in their hands.
Out now – DVD & BluRay – Momentum Pictures
To be in with a chance to win a copy of this fantastic DVD, just answer this simple question:
Which Superhero was played by Ron Perlman: A, HellBoy. B, SuperBoy. C, BatBoy
---

Bent Magazine Prize Draw Terms & Conditions
1. The prize draws are open to UK residents aged 18 and over. 2. No purchase is necessary. 3. Only one entry per person is allowed and multiple entries will result in an entrant being disqualified. 4. The deadline for receiving entries for the competition is the last working day of the magazine's month. 5. Winners will be notified within 28 days after the competition closes. 6. Proof of delivery or email will not constitute proof of entering the prize draws and no responsibility will be accepted for lost, corrupted, delayed or mislaid entries. 7. The winner(s) will be the first valid entry drawn at random. 8. Bent reserves the right to substitute the prize for another prize of equal value. 9. There are no alternative cash prizes. 10. Bent Magazine's decision is final and no correspondence will be entered into. 11. When you enter a prize draw, your details will be used to provide you with updates, information and promotions from Bent and other members of APN Ltd. You can opt out at any time by following the Unsubscribe link on the bottom of every email or by sending an email to unsubscribe@bent.com asking to be removed from our mailing list. 12. By submitting an entry, all entrants acknowledge and accept these terms and conditions. By taking part in any prize draws or competitions, you agree to be bound by these rules and the decisions of Bent Magazine which are final. 13. Bent Magazine reserves the right to disqualify any entrant and/or winner in its absolute discretion for any reason and without notice.