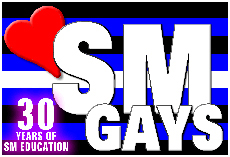 This July unique voluntary organisation SM Gays celebrates three decades of providing education and support to the gay male SM community. The occasion will be marked with two special events at the organisation's longstanding London base The Hoist.
SM Gays began when 20 gay men met informally in Brixton in 1981. Recognising the need for a non-judgemental and non-commercial social space for SM practitioners, and to improve understanding of SM safety, the group set themselves three objectives which are still current today: to acquire new skills; to provide education; and to provide a safe, social space for people interested in safe, sane and consensual SM.
The organisation has been run throughout its history entirely on a voluntary, not-for-profit basis, and over the years has involved hundreds of volunteers. It regularly donates money to trusts and charities such as the Eddie Surman Trust, the Food Chain and Mildmay Hospice.