free online dating sites without paymentASA
Dreamer Girl
Out Now
'Dreamer Girl' is a chilled out, soulful kinda song, with echoes of both Corinne Bailey Rae and Sade, but possessed of a style that is uniquely Asa's. There are easy ripples of funk throughout this folksy little number, which unfurls with whispery vocals and a summer-soaked chorus. This laidback triumph invites the listener to daydream every bit as much as the protagonist, and revels in the tension between imaginative escape and the pull of the real world, which stops Asa from completely drifting off in a cloud of her own devising and roots this in a very tender appreciation of human frailty.
---
https://mag.bent.com/the-best-dating-sites-for-free/CEE LO GREEN
I Want You (Hold On to Love)
4th July
So the sentiment of this song is hardly new, but Cee Lo Green is adept at reminding us his voice is perfectly suited for more soulful songs as well as pop. This one is lacks the upbeat irony of 'Fuck You', with its bouncy pop tunes and casually defiant lyrics, but nonetheless succeeds because of the reverberating, dark treacle that is Cee Lo Green's signature singing. The dance remixes really bring this track to life for an entirely more commercial crowd, too, ensuring that he won't lose the audience that loved him for 'Fuck You'.
---
silversingles dating appCARO EMERALD
That Man
11th July
'That Man' is a swinging, 50s-flavoured camp classic. Full of jazz band energy, leg-kicking samba sass and infectious bossa nova highlights, this is a deliciously retro confection. Caro Emerald is one of those hourglass girls with a flower in her dark hair and red, red lips, and her lyrics are full of wit and confidence that can't help but endear her to us. This Dutch singer could teach Jessica Rabbit a thing or two about contemporary 50s chic.
---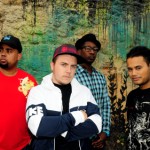 BURAKA SOM SISTEMA
Hangover (BaBaBa)
4th July
Portuguese dance mash-up masters Buraka Som Sistema whisk dubstep, house and kuduro into a crazy froth of Latin grime. Fat basslines and a ridiculously catchy hook (the 'BaBaBa') are designed to keep your head nodding and your body popping. The tune is surprisingly simple compared to similar offerings spinning in nightclubs at the moment, and what you end up with is a pared-down throb that's all the more effective because it isn't drowned in production and white noise. I'd be lying if I didn't admit to shaking my backside to this one for at least thirty minutes straight.