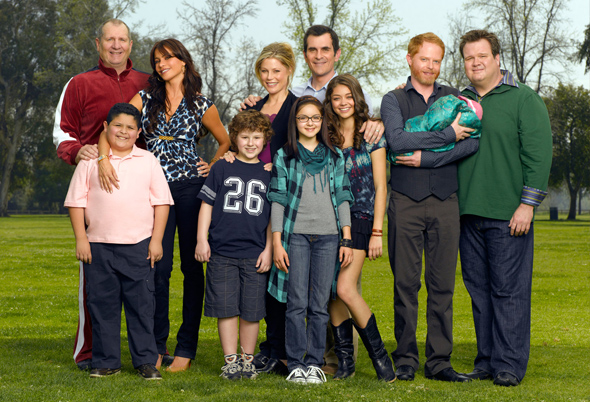 By Pedro Caiado

Modern Family is one of the most acclaimed American comedy shows on TV these days. It's filmed in a 'mockumentary' style but raises important issues for the gay community, such as gay marriage and adoption. The cast includes a former Broadway star and out gay actor Jesse Tyler Ferguson, who plays Mitchell, half of a gay couple with Cameron (played by Eric Stonestreet), who are raising an adopted Vietnamese baby girl. In an age where gay couples are still fighting for the right to marry, it's an important landmark to present them on the prime time TV. Jesse came to London to talk about the success of the show, his character and comedy. "I think Cameron and Mitchell have definitely resonated with a lot of people", he said.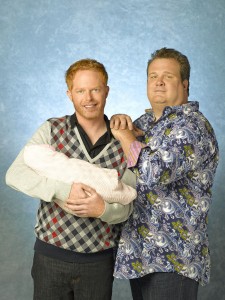 How did you end up taking this role?
I was in the middle of a snowstorm in New York at the time and I remember receiving the pilot script on my iPhone and reading it all the way through. I couldn't put it down. I was obsessed with it. I thought that it was an amazing show and I totally wanted the part.
How important to you is its portrayal of a gay couple?
It's very important to me. I take it very seriously and I love the responsibility that I have. I love Mitchell and Cameron.
Do you feel a massive responsibility in playing this character?
There is certainly a spotlight on both Eric and I right now. We are definitely a pop culture touchstone for the gay movement… or anyone who is looking for change in our country. Our objective at the end of the day is to make people laugh so, we don't have a big social message or political agenda with our show but we do also recognise the social ramifications that those characters have. I want the show to have the breathing space it needs to be a great comedy that just happens to have two gay characters in it.
CBS and NBC rejected the idea of Modern Family and ABC accepted and loved it. How did your life change after the show was aired?
After season one I was getting paparazzi on the streets (Laughs). I wish lawyers, teachers and doctors could have the same kind of reaction from people saying  – "I love your work". This is great. I love this.
We can see a great dynamic between the cast in the show. How do you achieve that closeness?
After we met each other for the first time, there was an immediate chemistry with all of us. It was something very natural. I do think that over time we are becoming closer and the chemistry certainly is getting deeper.
Is anything off limits with the humour? Why do you think you guys get away with jokes about sexuality, racism and positive discrimination?
I think the greatest humour is going to offend a few people. I don't think safe humour is funny. You need to push the envelope and I think people can always afford to be a little more light about things. Offending people is good, at times. There have been some jokes in scripts that haven't made it because the network considered a little bit "too far". I think that the audiences know that these characters are good people, so they let them get away with it.
Does the Modern Family working process allow for you to improvise or is it quite strict?
The writing is so spot on. Usually, whatever we come up with is not nearly as good as what they already have. But if, for some reason, something is not working, we sit down and write the scene together. However, that happens very rarely.
What's the main difference between Broadway and TV?
You get paid much more for TV. I love the immediate response you have with TV. But it's also nice to do the same show everyday of the week and understand what that character is. For the Shakespeare play I did in New York I had to learn my lines really well. When you're on TV, you try to memorize the material really quickly. By the time it's on TV, I've already forgotten what I said, but I can still remember my whole role from Shakespeare.
What's the best part of this job?
It's an amazing group of actors to work with, and I really enjoy all of them. I love playing Mitchell. It's been great. Every script has been better than the last; we have amazing writers. There's nothing hard about this job. It's a complete joy every time we come in. to work.
What's coming up?
We start filming Series 3 in August… I'm excited with the prospect of maybe getting another kid. I heard a rumour about a possibility of an episode involving a ranch where we pretend to be cowboys for a day. I don't know for sure.
Sky 1 are planning to re-run the entire two series in the near future but, if you can't wait, Modern Family is available on DVD.