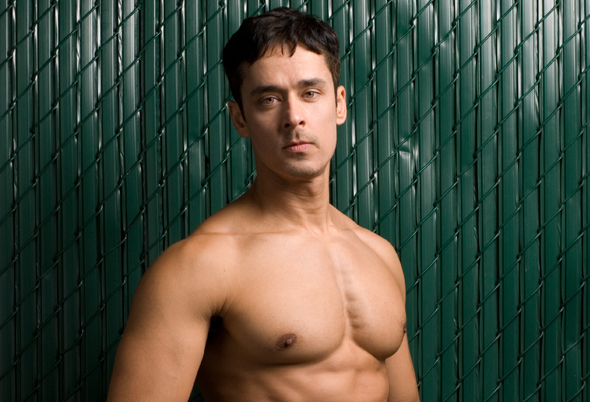 By Mark Gray
I think the USA has come up with one competition we wouldn't mind seeing on our screens here in the UK and would guess could make a nice change from Britain's Got Talent or the X-Factor. Rentboy.com's International Escort Awards Show, better known as "The Hookies," hosted by the inimitable Leslie Jordan (Beverly Leslie, Karen's nemesis in Will & Grace) were recently held in New York City. Some of the biggest names in the adult industry competed for people's choice awards celebrating all aspects of the oldest profession. Statuettes were given for Biggest Cock, Best Daddy, and Best Ass. The top prize was for the title of Mr. International Escort 2011 and the super endowed Rafael Alencar proved to be the big weiner…uh… winner.
Of course it's nice to be nominated, but the win is what really counts, right?
Everyone who is in a contest secretly hopes to win.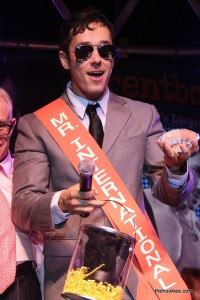 What does the win mean for your career?
Winning means the recognition of the community.  I feel very honored to have been selected the best of the best in my industry.
Who did you thank in your speech?
All the cock suckers who voted to me. All the guys who I have fucked and all those who I haven't yet but will get to one day.
Will you be raising your rate now that you are the top hooker in the world?
I can't do that. My rate is already more than average and it's not fair for my regulars. I want to keep my clients happy.
How much do you make on a typical night?
Depends how horny the guys are. My phone rings off the hook every night.
Isn't that kinda crazy?  Did you imagine as a child that you would one day be the top hooker in all the world?
As a baby, I sucked my thumb better than the other babies in the neighborhood.
Will you go around wearing your INTERNATIONAL ESCORT OF THE YEAR 2011 sash?
I was in Washington DC last week and took pictures in front of the White House wearing the sash.
What's the biggest misconception about escorting?
People assume they can't afford me, but they're wrong, they can. Call me, you'll see.
Is there a shady element to the business?
It can be as shady and dirty as you want it to be. Or, you can wear a suit and tie and keep it all professional. I'm into it all.
What do you do on a typical date?
Whatever it takes to fulfill me client's special fantasy.
Are most dates out in public or behind closed doors and under the sheets?
Behind closed doors. Many of my clients are married or famous so discretion is important.
Do you have regulars?
Sure, I have a lot of regulars.
What keeps your regulars coming back?
They come back for the cock they can't find anywhere else.
Have you ever experienced something close to a fatal attraction?
Unfortunately, yes. Some clients forget that our time together is a business arrangement.
When do you know when a customer is becoming a stalker?
I figure it out in time. If they wallpaper their bedroom with my face, I take that as a clue. On the other hand, when they have my picture as screen saver, I am flattered.
Have you ever walked out on a date?
No, I've been lucky. I avoid trouble by screening guys over the phone. I only walk out after I have worn them out good.
Is hooking an easy gig?
It is for me.  I am getting paid to be myself.
You also dabble in porn.
I've done over one hundred movies.
What came first, escorting or porn?
Porn. I started escorting because so many guys were contacting me to act out the fantasies I was doing in the movies. I decided, hell, I'll put an ad up on Rentboy and start making dreams come true.
Which job do you prefer?
Both are hot. I'm like most Americans, working two jobs to get by.
Which job pays the bills?
I do porn for fun. Escorting is part of my life. It's like drinking water for me. I drink overtime.
What other jobs have you held?
I graduated university with a degree in dentistry which, I know, sounds crazy. Can you imagine me drilling your teeth? I also majored in journalism. Basically, I am a nerd who likes to fuck.
How long can a rentboy career last?
Depends how good you are. It's not the escort who stops working. It is the clients who stop calling. My phones ring all the time, so I don't think I'm going anywhere anytime soon.
What's the best thing about being a rentboy?
The money is great but I also enjoy meeting new people. My clients are my best friends.
Worst thing?
I like the word "prostitute" and generally, I think of it as a compliment, but I don't like when people call me "prostitute" as an insult.
What's your message to haters?
I used to fuck for free like you, but I got smarter.
What did you do with the HOOKIE AWARD?  Where is it now?
My sister asked if she could display it on her shelf to show off to the rest of the family and friends. That's where it is.
Find Rafael Alencar on
www.Rentboy.com
www.thehookies.com
---
Rafael Alencar has starred in over 100 adult films. Here are his 5 Favorite:
1) Dreams of Rafael – Black Scorpion
2) Fuck Me Hard – Lucas Entertainment
3) Hard As Wood – Raging Stallion
4) Verboten – Hot House
5) Rafael in Paris – Lucas Entertainment