Terry George Telling Stories: Slipping in the Soap Awards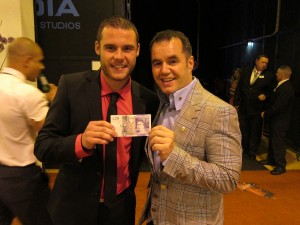 When a friend of mine invited me to the British Soap Award I jumped at the chance. It was being recorded in Manchester at the ITV studios right next door to the fabulous Coronation Street set. Ahh, I had happy memories of this place because last year I had my famous (well for me) cameo role when Jason Grimshaw was crowned Mr Gay Weatherfield. Suddenly my mind was working overtime as I began to think that maybe, just maybe, this was all a trick to get me to the studios and present me with my own award for 'Best Extra in a Pivotal Scene'. I was even composing my acceptance speech… just in case. Alas, it wasn't to be and on further reading of the invitation it said that on arrival there would be crowds of people, an army of photographers and the obligatory red carpet… again my heart raced with the idea of getting into OK Magazine… but the invite continued, our entrance was to the left of that and the rouge walkway was only for celebrities.
With hopes dashed for fame and a nice little photo in Hello the event itself proved a terrific pick me up as I rubbed shoulders with some of the most famous faces on TV. As you would expect with the Soap Awards it was like meeting old friends. As regular visitors to my living room via my large plasma screen as they were all so familiar, even if I'd never met them before. I had a £20 bet with my friend Danny Miller, that he would win an award. He wasn't very confident and said he didn't think he was in the running but I insisted that the Best Actor category would be his. He was shocked, surprised and very happy when he was awarded Best Actor for his portrayal of Emmerdale's Aaron Livesy… and I was twenty quid better off.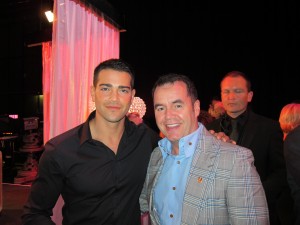 Deservedly, Emmett J Scanlan picked up both Hollyoaks' only two awards that night – for Best Newcomer and Best Villain. It was great to meet up with Liz Dawn again although upsettingly, she seemed frail but bravely gave the photographers every shot they asked for. Needless to say the place was wall-to-wall faces from Emmerdale, Eastenders, Corras, Hollyoaks, Doctors… the list of shows seemed endless. Even new kids on the block from 'The Only Way Is Essex' were mobbed by the paparazzi.
A surprise guest was American hunk, and ex-Desperate Housewives eye candy, Jesse Metcalfe who was there to present an award. There is no denying he is an extremely handsome brute as just about every man and woman in the auditorium tried to flirt with him and get a photo… including yours truly.