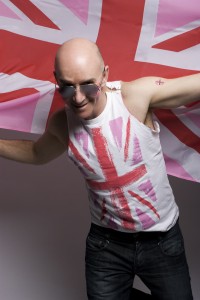 The Rainbow Flag is for many a universal rallying point of all things gay. We see it everywhere and it has become the customer to march behind it at just about every Pride event there is. However, celebrating its 5th birthday this year is the iconic, and totally British Pink Jack, created by London based photographic artist David Gwinnutt.
Talking about his design Gwinnutt explains, "The concept was inspired by Soho in the nineties when London led the world in fashion and the arts and we had the world's best gay scene. I felt an enormous sense of pride for my country and the British gay scene – Cool Britannia ruled and we no longer needed to look to America for our identity. As an artist I wanted to create something that represented my feelings – the Pink Jack is a symbol of that pride."
Since Gwinnutt first carried the flag at Europride five years ago the symbol has been taken to the very heart of the gay community; Ex Prime Minister Gordon Brown's wife Sarah Brown carried one at Gay Pride, Alan Cumming hangs one in his dressing room at every theatre he goes to, even the Last Night of the Proms is now awash with the Pink Jack. The proud flag has become a symbol which represents the achievements and contributions of the British gay community.