looking for dating sitesDavid's Birthday

A stunningly-shot and beguiling ode to the all-encompassing pull of desire, this movie stands out as an example of gay European Cinema at its most potent. Two married couples head out to the stunning Italian coast for an ideal holiday in the sun. With both Diego and Shanny, and Matteo and Francesca's relationship seemingly solid and unflappable, the group of friends settle in for a typically serene beach holiday. But when Diego and Shanny's young lithe son David arrives, it quickly becomes evident that it is not just the young girls on the beach who are drawn to his Adonis-like beauty.
Out: 13th June – £15.99 – tla releasing
To be in with a chance of winning a copy of this DVD, just answer this simple question:
What is the capital of Italy?
---
did bradley cooper and lady gaga dating127 Hours

Aron is in the middle of a routine climb when a boulder suddenly becomes dislodged just above him crashing onto his arm and leaving him trapped in solitude inside a dark, isolated canyon. Over the next five days Ralston does everything he can to prolong his life while wrestling with hunger, thirst, flashbacks and hallucinations.
This breathtaking film takes you on a journey through the mind of a man forced to come to terms with himself in the most extreme of circumstances. 127 Hours is a visceral, thrilling ride that demonstrates what the human mind can achieve when it chooses to fight for life.
Out: 6th June – Blu-ray & DVD – Pathe
To be in with a chance of winning a copy of this DVD, just answer this simple question:
Which of these implements do rock/ice climbers use: A, Crampons. B, Campons, C, Tampons
---
https://mag.bent.com/on-todays-date/Brotherhood
Dismissed from the army after allegedly making a pass at a fellow soldier, young Lars soon falls in with a gang of gaybashing neo-Nazis. Although the group are initially wary of this new figure, Lars quickly proves he is a fast learner and rises swiftly through the ranks – simultaneously developing closer bonds with the other members, especially the sexy Jimmy. It is soon apparent that the two are far more than 'blood brothers' and confronting these sexual longings threatens to jeopardise their very lives. This is not just a simple love story.
Out: 13th June – £15.99 – tla releasing
To be in with a chance of winning a copy of this DVD, just answer this simple question:
Traditional German leather shorts are called: A, Leder Garten, B. Kurze LederHosen, C, Lederhandsonme.
---
encounters dating agencyDoing Time for Patsy Cline
Ralph is off to seek fame and fortune in Nashville. The young musician leaves his parents farm with just his guitar and a plane ticket, but fate intervenes when he encounters an unstable drug thief and his enticing girlfriend, Patsy. Ralph embarks on an incredible journey with one route leading to him being framed for drug trafficking and the other showing a future Ralph always dreamed of; fame, fortune and Patsy Cline. Doing Time for Patsy Cline is a winsome, witty comedy with a big heart.
Out: 20th June – £10.99 – Crabtree Films
To be in with a chance of winning a copy of this DVD, just answer this simple question:
In which state in the USA is Nashville?
---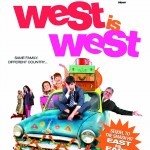 West is West

Ten years after the multi-award winning first installment East is East, West is West follows the Khan family as they take on a mammoth journey from Salford to rural Pakistan. In a last attempt to make a good Muslim son of Sajid the youngest Khan, a bored and isolated teen, his father George decides to pack him off to their family in the Punjab, to the wife and daughters he abandoned 30 years earlier. Resolved to teach Sajid a lesson, the tables are turned on George when he realises it is he himself who has much to learn. Funny, colourful and wonderfully shot.
Out: 20th June – BluRay & DVD – Icon Home Entertainment
To be with a chance to win a copy of this fantastic DVD just answer this simple question:
What is the capital of Pakistan?
---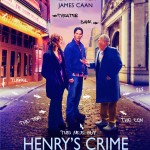 Henry's Crime

Henry (Keanu Reeves) gets an unexpected wakeup call when he becomes an unwitting participant in a bank heist. Rather than give up the names of the real culprits, he takes the fall and discovers his true calling. Having done the time, Henry reasons he may as well do the crime. Discovering a forgotten tunnel connecting the bank to a nearby theater, he recruits his old cellmate Max to aid in the robbery, all the while playing the lead in the theatre's current production where he finds himself falling for his leading lady, Julie.
Out: 6th June – Blu-Ray & DVD – Entertainment in Video on Rental
To be in with a chance of winning a copy of this DVD, just answer this simple question:
In the series of Matrix films what was the name of Keanu's character: A, Neo. B, Morpheus. C, Agent Smith
---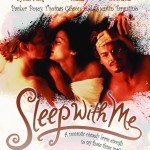 Sleep With Me
Joseph and Frank are the best of friends. Both are also in love with Sarah; a precarious, angst-ridden ménage a trios that is complicated still further by the marriage of Sarah and Joseph. Crafted by 6 different writers, this quirky love-triangle comedy also contains a memorable cameo from Quentin Tarantino as a film buff discussing the homosexuality of Top Gun with an entertaining "Go the gay way" speech!
Out: 13th June – £12.99 – Network releasing
To be in with a chance of winning a copy of this DVD, just answer this simple question:
Complete the title of this Quentin Tarantino movie – Pulp ____?
---

Bent Magazine Prize Draw Terms & Conditions
1. The prize draws are open to UK residents aged 18 and over. 2. No purchase is necessary. 3. Only one entry per person is allowed and multiple entries will result in an entrant being disqualified. 4. The deadline for receiving entries for the competition is the last working day of the magazine's month. 5. Winners will be notified within 28 days after the competition closes. 6. Proof of delivery or email will not constitute proof of entering the prize draws and no responsibility will be accepted for lost, corrupted, delayed or mislaid entries. 7. The winner(s) will be the first valid entry drawn at random. 8. Bent reserves the right to substitute the prize for another prize of equal value. 9. There are no alternative cash prizes. 10. Bent Magazine's decision is final and no correspondence will be entered into. 11. When you enter a prize draw, your details will be used to provide you with updates, information and promotions from Bent and other members of APN Ltd. You can opt out at any time by following the Unsubscribe link on the bottom of every email or by sending an email to unsubscribe@bent.com asking to be removed from our mailing list. 12. By submitting an entry, all entrants acknowledge and accept these terms and conditions. By taking part in any prize draws or competitions, you agree to be bound by these rules and the decisions of Bent Magazine which are final. 13. Bent Magazine reserves the right to disqualify any entrant and/or winner in its absolute discretion for any reason and without notice.