Pride 2011 Festival sees the Gay Photographers Network launch its second annual exhibition!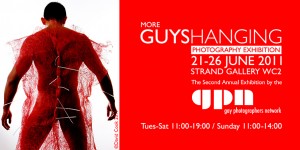 The Gay Photographers Network is delighted to announce details of its 2011 Exhibition entitled More Guys Hanging. Following on from the success of last year's show, we are again proud to be part of the Pride Festival and this year the show will be hosted at the prestigious Strand Gallery, 32 John Adam Street, London WC2.
The Exhibition, which will be opened by actor and singer Toyah Willcox, will this year feature over 40 photographers (professionals and talented amateurs) displaying work covering a wide range of genres from portraits to cityscapes, abstracts to landscapes, nudes to reportage, and includes work by published photographers, Dean Stockings, Zach Burns, Gaz, and Leigh Carter as well as images from David Cook and Neil Young who have recently had solo exhibitions in the capital.
The photos exhibited will be available for sale with prices to suit all pockets but there will be an opportunity to win limited edition prints in a charity auction/prize draw held over the course of the week to raise money for the Disabled Photographers Society and London Friend.
More Guys Hanging will be at the Strand Gallery, 32 John Adam Street, London WC2N 6BP
Monday 20th Press/Private view (by invite) to be opened by actor and singer Toyah Willcox!
Tuesday 21st to Sunday 26th June (Tues – Sat 11:00 – 19:00 / Sunday – 11.00 – 14:00)