Be a stud at Studland Bay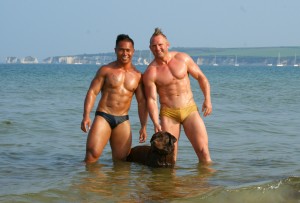 by ChrisGeary.com
With the excess of recent Bank Holidays, added to the rather splendid weather that arrived unannounced but was very welcome, it was decided that an extended weekend away was definitely needed. We decided to go camping at Burnbake Campsite, just around the corner from the nearby village of Studland, an area not far from the golden sand beach town on the south coast, Bournemouth. The place has everything you need for a few days away in the sun.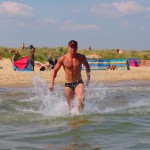 Studland Bay is the UK's biggest and best (some might say notorious) gay beach, a great place to hang out and have some seaside fun. It also allows dogs; my chocolate Labrador loves playing ball in the water so kept us entertained all day. Just remember to take lots of water and all the supplies you'll need for a day out as there are no shops nearby.
If you don't have a car don't worry, from Bournemouth train/coach station it takes about 30 minutes on the number 50 bus to get to Studland Bay, it's the 2nd stop after the Sandbanks Ferry. Then about a 20 minute walk through the sand dunes. It's a nudist beach so I guess you'd expect it to be a little out of the way. If you're offended by seeing lots of naked men with big dicks bobbing about, you certainly wouldn't like to get lost in those sand dunes! But once there it's perfect to relax and chill, without all the family and kids commercialism found on Bournemouth's main beaches. If you fancy some jet-skiing or banana boat fun (you know what I mean so stop sniggering), then put on your Speedos and walk further along the beach to Knoll Beach which has lots of activities, things to do and a shop.
The gay scene in Bournemouth is located in an area called The Triangle. The best gay bar is DKMY, others include: The Xchange, Branksome, Ventana and the Bakers Arms. Bournemouth's gay nightclub is 2930 The Triangle.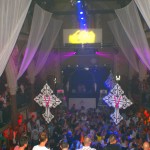 On bank holiday Sunday's there is a big new club night called VICE (formally called Bolts) at its new home V nightclub, an old converted church near the gay area. The venue truly is amazing, it's a great night, when we were there they had a live PA from Amanda Wilson and top DJ Lee Harris.
More info: www.ViceBournemouth.com
Bournemouth Pride this year is on Saturday 9th July. The event is called Bourne Free and has a Treasure Island theme, visit the web site for details: www.BourneFree.co.uk
Good hotel advice: www.GayAccommodationBournemouth.co.uk
For allthe latest scene info and gossip log onto: GayBournemouth.net or search the many groups on Facebook.