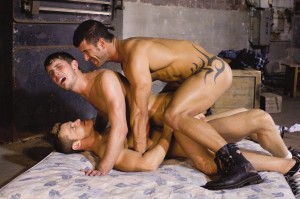 Last year, Belgian researchers published findings which revealed that in Europe and the UK, the HIV epidemic is being fuelled by risky behaviour in young gay men.
It once again threw a light upon the modern gay lifestyle, and particularly our sex lives. It does so at a time when the most visual evidence of our sex lives – porn – is depicting ever greater amounts of bareback sex. Condomless fucking is apparently what we are choosing to buy and some companies, notably the San Francisco based, Treasure Island Media, have celebrated the bareback act and identity at a time of mounting concern around bareback porn.
The gay author and journalist Paul Burston is one of those who have made high profile protests in the media at the apparent acceptance of, and growth in, bareback porn. In 2009, he cited a mixture of personal and social reasons for seeking to avoid bareback sex and the risk of HIV transmission commenting that: 'In the long run, it's far healthier for [gay men] and far easier on the National Health Service'.
The playwright Jonathan Harvey, perhaps best known for Beautiful Thing and Gimme Gimme Gimme, includes a scene in his new play Canary in which a young man dismisses HIV as 'an old man's disease'; HIV is dismissed as something associated with another generation. Safe sex campaigners have found themselves in the midst of a catch-22 position. For years, the message has been "don't worry, HIV isn't the end of the world, it needn't stop you doing what you want to do". This message was borne of the need to encourage people into being tested and being treated. After all, once people do know their identity, the evidence is that this changes people's behaviour. Testing is therefore a key element in any strategy to reduce HIV infection rates. The trouble with this message is that people have listened, and more importantly looked around at the world they inhabit. It is not the 1980s. Men are not dying all around us. Whilst many of us might know friends or former lovers who are HIV positive, they are still alive and appear well.
For many, HIV doesn't look that scary. In a 'live for today' culture, talk of future drug resistance or cases of those who currently have drug resistance or other complications are easy to dismiss and all the while the safe-sex campaigners are telling us "don't worry, it's not the end of the world". Yet, changing tack and adopting a 1980's 'scare the crap out of everyone' route wouldn't work either as it would be located in the fears of the past rather than the contemporary realities. Screaming "you're all going to die" only works if people see people ill and dying.
Safe sex's focus on the whiter-than-white strategy of 'always use a condom' has also contributed to a dismissal of safe sex activity. How many of those people currently calling on gay men to 'always use a condom' actually mean that? Do they mean always during oral sex? Would that change with a long-term lover? What do you actually do? When the safe-sex advocate and Milk screenwriter Dustin Lance Black was revealed on Perez Hilton's blog in a series of sex tape stills getting fucked without a condom, he found himself at the centre of a media frenzy and was forced to make a statement saying: 'I apologize and cannot emphasize enough the importance of responsible sexual practices'. Media reports also began emphasising that the photographs were three years old and with his then boyfriend – confirming once again the notion of gay men strategising their safe sex practices (boyfriend = bareback OK, random shag = bareback bad) along with emphasising bareback as something historic, something gay men don't do anymore.
Yet it seems the contrary is true. Bareback seems to be of the now. The porn that seeks to record it, whether in the form of commercial studios or the amateur porn we are uploading onto sites such as XTube, does so as part of presenting the "authentic" contemporary homo. This is sex, not only as we want to have it, freed from the constraints of social obligation, but it's also documenting sex as we actually have it.
Whilst recent years have seen gay rights campaigns notably stripped of the sexual, bareback porn is a reminder that gay men fuck other guys up the arse. Not only that, but it re-associates gay men and homosexuality with disease at a time of significant legal and social advances in gay rights around the world. Its dominance at a critical time in the development of gay rights enables homophobes to cast gay men once more as degenerate and disease ridden.
Yet some in the porn world do share the concerns about bareback porn. Twinky porn actor Brent Corrigan has deployed his cute charms in a series of explicit and humorous safe sex videos for the Washington DC based campaign, FUK!T. This apparently has all the more potency as Corrigan is a 'reformed' barebacker, with many of Corrigan's early bareback porn films now voluntarily withdrawn from the market after he revealed he had forged identity documentation so that he could make the films under-age.
In 2008, the BBC's Newsnight programme revealed details of two DVDs which included footage based on a week-long shoot in which eight guys had bareback sex in various combinations. Soon after, four of the actors involved in the shoot were diagnosed as HIV positive. It was presented as a shock to the British bareback porn industry but in reality, was quickly forgotten. Other companies such as Treasure Island Media (TIM) and Hot Desert Knights celebrate bareback sex, although none more so than TIM and its titles such as Cumsloppy Buttholes, Breeding Season and Plantin' Seed. Its repeated depiction of the use of a Devil's Dick (a dildo of frozen semen) is arguably the ultimate extreme act of bareback sex.
For now, companies like TIM appear to be in the ascendancy, along with our HIV rates. Porn is understandably the easy target but the porn companies are reflecting our own sexual practices and desires. It may at times give us permission to unleash slutty desires and fantasies but it also records what were doing anyway. As long as we are not dying in droves, and (unlike many countries) continue to have access to free or affordable drugs and treatment, it is easy to cast anti-bareback campaigners as irrelevant.
Bareback porn remains controversial but whatever our apparent public discomfort, it appears that when it comes to porn, as well as our fucking, we're increasingly choosing bareback.
Chris Ashford is a Principal Lecturer in Law at the University of Sunderland where he teaches a course on Law and Sexuality as part of the law degree programme.
Image: Snap Shot – Falcon Studios