App personal coach at your fingertips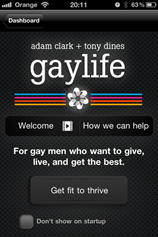 Looking to find and keep a new man? Lose weight for the summer? Progress in your career? Then the new gaylife app from Gay Life Coach could be just the helping hand you need to become more of the person you have it in you to be. Available for iPhone, iPad and iPod Touch, the app is made exclusively for gay men by gay coaches Adam Clark and Tony Dines, and is the first of its kind that helps gay men bring about positive change, reach their goals and lead more fulfilling, happier lives.
The Gay Life app will be available for download from the iTunes store from 1st June 2011 and costs just £2.99.