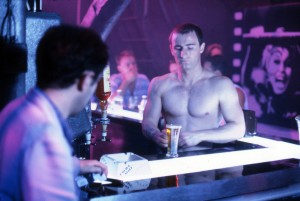 British Film Director Ron Peck talks us through his career and making 80s East End gangster movie EMPIRE STATE complete with gay characters and a pulsating 80s gay sound track.
How did you become a filmmaker?
I worked for a year to get enough money together to go to the London Film School, which was a very good experience, and after two years there four of us set up a film company and started making documentaries. This was 1972-74. In 1978 we made our first feature, NIGHTHAWKS, which was accepted as a British entry at Cannes, and that began to open possibilities up a bit.
How did you come to make Empire State?
I moved to Bethnal Green in East London around 1975, when it almost seemed like another city. In the late seventies and in the eighties it began to undergo one of its historic changes as the Docklands were opened up for massive redevelopment. Money on a phenomenal scale and a new population buying up property began to move into the area. It was all about money. It was also a time when Mark Ayres (co-writer and executive producer) and I felt there was a fierce new individualism coming to the fore in Britain. Under Margaret Thatcher people were cut loose and a lot of the safety nets were removed. The country was volatile and moving to extremes. New technologies were just beginning to come in and people thrown out of jobs. There was very high unemployment and at the other end of the scale extremes of wealth. Just like the era we're moving into now. At the same time, within East London, there was this phenomenon of American-style bars and nightclubs with names like 'Fifth Avenue' and 'Manhattan'. People cultivated a new heightened glamour, it was a world full of colour and shine. It was also the period of new fitness clubs, new drugs… Within this new dog-eat-dog intensely individualistic culture Mark and I configured Empire State as a kind of gladiator film and tracked some twenty characters through 24 hours that took in a Friday night letting go.
Despite being a film about the East End underworld Empire State has a cult following among a gay audience. Why do you think this is?
The gay world itself at that time was becoming increasingly confident and commercialised. Clubs were a big part of the gay scene so it might partly be that, the fact that most of the action of Empire State revolves around a vast nightclub. Plus most of the characters in the film were pushy, fighting for their space, as was the gay population. The film includes characters who are gay and bisexual and we tried to integrate them in the criss-cross action of the many stories and subplots.
The club scene is very eighties – suited clubbers, heavy make-up and a soundtrack featuring Jimmy Somerville, New Order and Yello. Did you do much research into the nightclub scene to recreate the authenticity or did you go to the film with set ideas following your previous foray into this arena with Nighthawks?
That mix was part of the real world we were dramatising. Benjy's, a Mile End club which was one of the inspirations behind the film, was quite a tough place but very gay-friendly. It had a back street entrance to a gay S&M club that opened on the same nights that the main club pulled in a more general crowd. What I liked was that it all crossed over and mixed up. The same people might be very macho and also gay. It was a very exhilarating place with room for everyone.
---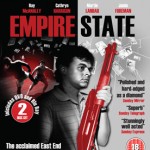 EMPIRE STATE
A production from cult British director Ron Peck (Nighthawks/Fighters), this is a perfect mix of gangster action and the high camp of the eighties East End club scene at The Empire State nightclub in London's newly developed Docklands, a place where disparate lives intersect. Illusory, dangerous and glamorous, it is both the playground of the rich, and an escape from the poverty and squalor of the toughest reaches of the city. The Empire State is also the arena for a fierce struggle between the hard men who for decades ran the East End, and the new breed of racketeers. They're prepared to do anything to get control, and the fight for power will end with one of the most brutal orgies of violence the East End has ever seen…
Against the backdrop of gathering menace, Chuck, an American with £3 billion to spend, toys with potential investments, while a young boy, Pete, comes to London to find his friend, who has disappeared in the entrails of the Empire State…
Out: 14th March – Blu Ray and DVD – Network Releasing
To be in with a chance to win a copy of this DVD, just answer this simple question:
The Empire State Building is in which US city?
---
Bent Magazine Prize Draw Terms & Conditions
1. The prize draws are open to UK residents aged 18 and over. 2. No purchase is necessary. 3. Only one entry per person is allowed and multiple entries will result in an entrant being disqualified. 4. The deadline for receiving entries for the competition is the last working day of the magazine's month. 5. Winners will be notified within 28 days after the competition closes. 6. Proof of delivery or email will not constitute proof of entering the prize draws and no responsibility will be accepted for lost, corrupted, delayed or mislaid entries. 7. The winner(s) will be the first valid entry drawn at random. 8. Bent reserves the right to substitute the prize for another prize of equal value. 9. There are no alternative cash prizes. 10. Bent Magazine's decision is final and no correspondence will be entered into. 11. When you enter a prize draw, your details will be used to provide you with updates, information and promotions from Bent and other members of APN Ltd. You can opt out at any time by following the Unsubscribe link on the bottom of every email or by sending an email to unsubscribe@bent.com asking to be removed from our mailing list. 12. By submitting an entry, all entrants acknowledge and accept these terms and conditions. By taking part in any prize draws or competitions, you agree to be bound by these rules and the decisions of Bent Magazine which are final. 13. Bent Magazine reserves the right to disqualify any entrant and/or winner in its absolute discretion for any reason and without notice.