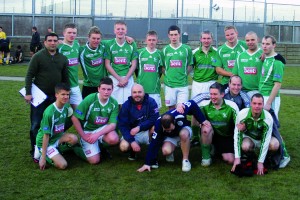 Yorkshire Terriers Football Club are once again hosting their annual 5 a side tournament over the weekend of 19-20th March and it is set to be the biggest tournament yet. 32 teams and nearly 500 gay footballers, family, friends and supporters from around the UK will be descending on Leeds for the weekend.
Yorkshire Terriers FC have been hosting the 5 a side tournament annually for 14 years and what started out as a small, friendly tournament between a few friends from the Gay Football Supporters Network (GFSN) has become one of the highlights in the gay football calendar, attracting record numbers to Leeds year on year.
"It really is fantastic how much support we get each year for this tournament." said Robert Graham, Chair of Yorkshire Terriers FC. "We have never had to turn teams away yet but this year we really are reaching the limits of how many we can host. As the GFSN football league has grown so has the number of teams wanting to come to Leeds, experience the bars and clubs and then enjoy a full day of football on the Sunday. Last year's winners, Nottingham Ball Bois, are back to defend the trophy but it really could be anyone's tournament."
The weekend kicks off, as always, on the Saturday night, when teams will be welcomed to The Loft Bar from 7:30 until 11:00, the cup draw will take place at about 10:00, before continuing the night's merriment around the various bars Leeds has to offer.
Matches on the Sunday are scheduled to start early and continue up until almost 5. Afterwards our sponsors The Viaduct Show Bar will be hosting the awards ceremony and closing the event.
Everything is set for another fantastic weekend and we welcome anyone interested to come along and join in the fun.