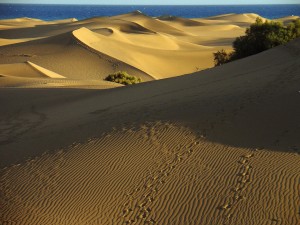 Bent's intrepid Adrian Gillan explores some high-contrast Canary Islands – indisputably gayest Gran Canaria; plus quiet little La Gomera, reached by short ferry ride from mighty Tenerife!
Just three and half hours from the UK by plane, due south, the gay-friendly Canary Islands – volcanic idylls, rising up out of the mighty North Atlantic – seem a million sunny miles away.
GRAN CANARIA
A tiny speck of Spain off the African coast, Gran Canaria is a "mini continent" in its own right, boasting cliffs, dunes, mountains, valleys and lush forests. Third largest of the Canaries, it also – famously – attracts hoards of queers, mainly German and English, to its eternally sunny southern shores, notably to buzzing Playa del Ingles, plus adjoining, tad classier, Maspalomas, or more laid-back San Agustín.
Stay at Gloria Palace San Agustín (Las Margaritas, San Agustín, Gran Canaria; T: +34 928128500;), a fine 4-star hotel, with attractive grounds, attentive service, fine dining and – star of the show – large, adjoining seawater spa (thalasso) offering salty pool and jets, plus a range of wonderful massages and other treatments. Try their amazing chocolate exfoliation and thermal wrap!
A pleasant walk along the seafront from San Agustín, enjoy the dozens of gay bars, clubs, saunas and shops in Playa del Ingles: mainly in the infamous Yumbo Centre. Maybe time a trip around Maspalomas Pride (6-15 May 2011)
Of course, you may well wish to just lounge about on the sand, or at your hotel. But the more discerning tourist can take a coach tour, or hire car, through the island's spectacular Central Highlands, peaking at a giddy 2000m; or explore island capital, Las Palmas, on the north-eastern tip.
Along the west coast, visit picturesque Mogán with its nice eateries, marina and boat trips – perhaps lunching inland a tad at the high-perched Las Cañadas rustic restaurant, with fine views down the valley back towards the sea. Pass through San Nicolás de Tolentino to the old village of Agaete. You might even stop a night or two at the nearby Finca Las Longueras (Valle de Agaete, Agaete; T: +34 928 898 145;) – a luxuriously homely, secluded rural hotel retreat, built in English colonial style, with lofty rooms, comfy lounge, sociable dining room and luscious grounds with pool and bar.
TENERIFE
To reach the small island of La Gomera, you'll most likely do so via Tenerife, the largest of the seven Canaries: home to banana plantations and tropical groves, all dominated by Mount Teide – Spain's highest peak; and Earth's third largest volcano, thankfully dormant! Head north to make chic, queer-enticing Puerto de la Cruz your base – with the island's bustling capital, Santa Cruz, not far away. In the interior, enjoy Teide National Park's unique, barren landscape. For all things gay, head back south to the tourist-brimming southern coastal resort of Playa de las Americas!
LA GOMERA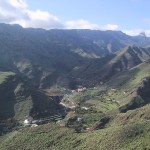 Less than an hour away from Los Cristianos in south west Tenerife – by the excellent Línea Armas ferry – lies San Sebastián, main town on La Gomera: itself the sixth largest Canary, and one of the oldest, hence its relatively small area having been well carved by wind and rain into distinctive steep valleys, dropping and radiating away from a high, central "mist forest" plateau.
Stay at Hotel Torre del Conde (C/ Ruiz de Peron 19, San Sebastián, La Gomera; T: +34 922 870 000;), good 3-star accommodation bang in the centre of main small town, San Sebastián – overlooking the eponymous Torre del Conde and its park, mere yards from sea. Fab eatery.
In San Sebastian itself, visit Casa de la Aguada (the well where Columbus draw his water from before setting sail for the so-called "New World"), Casa de Colón (where he stayed), Church of the Assumption (where he prayed) and Torre del Conde (where he supposedly got laid, with a local noblewoman). Also see the cute little Church of San Sebastián, the Archaeological Museum, plus port, marina and beach.
Thereafter, pretty much the only way to get around the island is via hire car.
To the north, visit the coastal village of Agulo and hill village of Vallehermoso – learning more about the island's geology and botany at the Caňada Grande info centre and gardens, complete with nice café. To the west, visit the Mirador del Palmarejo, with its César Manrique-designed viewing platform and restaurant; plus little Arure village, to dine at marvellous Casa Conchita (Carretera General Arure, Arure; T: +34 922 80 4110;) – serving up traditional Canarian food, with a twist, high in the hills – before dropping down into the one-time hippy haunt of Valle Gran Grey.
In the island's centre lies the lofty UNESCO-protected Garajonay National Park, a mist forest home to countless moisture-loving pants. Take a stroll through this ancient wilderness at La Laguna Grande. Making your way back to San Sebastián, stopping variously for yet more breathtaking panoramic views.
OTHER USEFUL CONTACTS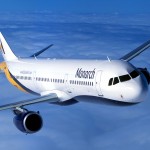 Award-winning low fares airline Monarch offers year-round flights to Tenerife from Birmingham, London Gatwick, London Luton and Manchester airports with fares, including taxes, starting from £77.50 one way (£138.99 return). Monarch also offers scheduled flights to Gran Canaria from Birmingham and Manchester airports with fares, including taxes, starting from £62.99 one way (£108.50 return). Monarch provides a unique range of tasty hot and cold food onboard with prices from £2. Seats can be pre-booked at £8.50 per one-way flight to avoid the last minute free-for-all experienced on some other airlines; or, for only £25, extra-legroom seats are available, with up to six inches of extra space. Passengers travelling on scheduled flights can also avoid airport queues by using online check-in, available between 7 days and 4.5 hours pre-departure.
Spanish Tourist Office: PO Box 4009, London , W1A 6NB; 020 7486 8077; info.londres@tourspain.es