GMFA tackles racism on the gay scene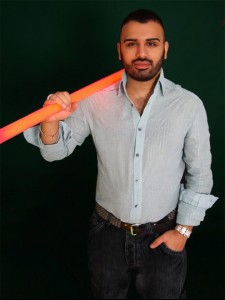 The 'Switched On' campaign from GMFA, the gay men's health charity, aims to raise awareness of racial discrimination in LGB&T spaces, and empower individuals to tackle the issue and embrace a multi-cultural community. The campaign was developed by Big Up, the Black gay men's project at GMFA, which receives Big Lottery funding.
Jaime Sylla, project manager for Big Up, comments: "These are big and historically complicated issues we're dealing with. While we don't expect to solve the problem of discrimination in one go, we hope this campaign provokes discussion and encourages everyone to recognise the benefits of ethnic diversity. We also hope that LGB&T people, irrespective of ethnic background, can draw parallels between the experience of homophobia and that of racism, and appreciate that our common struggle far outweighs what we think separates us."
Even on days which are intended to celebrate the whole gay community, racism can be felt, as Hanaan Baig discovered. "There was an incident several years ago while me and other group members of Imaan (who provide support for LGB&T Muslims) were marching at London Pride: other gay marchers came up to us and said, 'I didn't know we were marching with terrorists today!' And that was a Pride day… yet there were other LGB&T people that felt it was necessary or perhaps even humorous to make such comments. It was pretty offensive."
www.gmfa.org.uk/switchedon also includes details of organisations that individuals can turn to for legal advice and other forms of support.