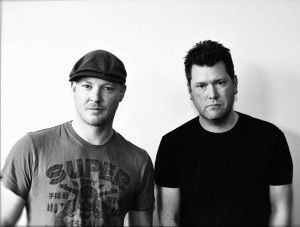 Following Cicada's extremely well received cover of the evergreen Chicago house anthem, 'Your Love', comes 'Fast Cars'. This is their first original release in over 12 months and one of the debut tracks from their third artist album.
'Fast Cars' features vocals from Nik Yiannikas, the singer from Australian indie rockers Lost Valentinos. It's the first male vocal track from the band in several years, and Yiannikas' delivery sits perfectly on top of the building synth lines and chords that have become Cicada's dancefloor signature.
Following the release of their 2009 album, ROULETTE, Cicada have returned to explore the spaced-out disco sounds that characterised their early limited edition coloured vinyl releases.
Alex and Aaron are currently finishing recording sessions with a range of different vocalists for the new studio album, due to be released in June. The original track comes in several versions to suit all floors and tastes, including a club mix, instrumental, and dub.
Swedish rising star, Sebjak, who's enjoyed a phenomenal rise to worldwide attention via his tracks on Size, Subliminal, and WePlay, turns in a vocal remix and dub, both of which eloquently illustrate his canny ability to craft peak time dancefloor bombs.
Cicada will announce details of worldwide gig dates in due course.
Out: 11th April – 'Fast Cars' – Critical Mass
www.myspace.com/cicada1